Share the post "Alternative uses for Papayas"
Remember when I wrote about my volunteer papaya tree?
How about them tasting like vomit?
Blech!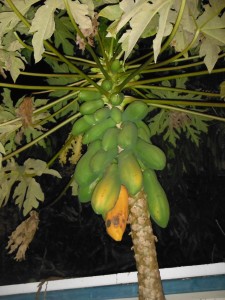 Well, as my papayas grow out and ripen, I've been cutting, smashing, or busting them open for the chickens to eat. The seem to like it, and that's fine with me! At least I'm getting something useful out of the fruit. Its free, so I figured I'd just let it keep producing free chicken food, I hate wasting anything considered "edible".
I've missed a few meals in my day, and didn't like it. I'm a firm believer that nothing removes fear of unknown foods like hunger does. Since I've been hungry before, I almost never fail to try something considered odd by my upbringing. I've had tasty papaya before, but that papaya tree in my back yard and its vomit flavor is just too much for me.
However, on New Year's day, I was introduced to green papaya salad, also known as "som tam" in Thai. Ridgerunner's wife is from Thailand, and from time to time, she will let me try something considered unusual in this country that was a regular item in her homeland. Through her cooking, I've found that Thailand offers some fantastic cuisine, though much of it can be rather scary if you don't have an open mind to food. Every New Years Day, she puts on a giant Thai buffet for their friends and family, where she makes all sorts of interesting, odd, spicy, and DELICIOUS foods. The green papaya salad was all of that.
Apparently, the papaya is considered a vegetable when green and a fruit when ripe. I never knew this. I was very interested when she told me of the green papaya in the salad. I expected a sweet dish, but found that it was far from that, being a salty, savory dish with plenty of hot pepper kick. I was hooked, even trying some made just for RidgeRunner himself with a bit of his home grown ghost peppers – that he eats regularly. That guy is an animal! Not sure how he can eat those all the time!
As to the green papayas, I have been kicking around the idea of trying one of mine in the same dish, hoping that when unripe, they wouldn't have that offensive flavor. Tonight I was hard up enough for some variety that I tried it.
I'm a bit bummed now, after the result. I've fed dozens of those papayas to my chickens, when I could have been eating them myself. When green, they do NOT have that offensive flavor. In fact they more resemble a winter squash, sweet potato,  or zucchini than anything else.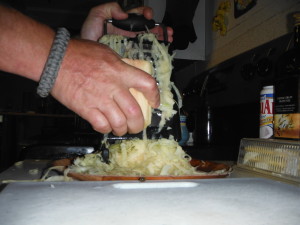 I opted to make a green papaya salad of my own. I peeled the green papaya, then shredded the white flesh off of the outside. As I reached the interior that had color, I stopped. This left a core of lightly-colored papaya that I would feed the the chickens along with the peelings.
I then put two cloves of garlic, peeled and mashed, along with a dash of dried pepper flakes, and some black peppercorns into a mortar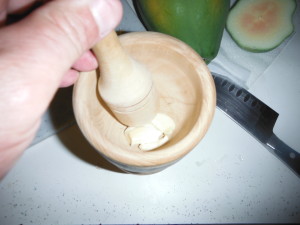 and ground it all up with the pestle. (You do have a mortar and pestle, don't you?) Once this was well ground, I added a splash of lime juice to rinse out the mortar, pouring the mixture over the shredded papaya. More lime juice was added, and then I then added a splash of olive oil, a splash of cider vinegar, and a dash of salt.  Mixing it well, I called the wife over.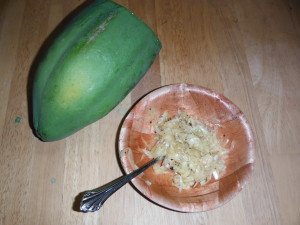 We were happy with the end result, though it turned out nowhere near what we had tasted at New Years Day. We both agreed that green papaya has a LOT of potential, and we would be trying it in many different dishes over the next few months.
I hope the chickens don't mind!
Peace,
db