Share the post "Gator Hunting – Part 2 (Filling the Last Tag)"
First I want to say that we have a new sponsor!
Stacey's Tasties has decided to join my list of supporters. She offers a long lists of canned jams and jellies, including my personal candied jalapeno recipe. She sells out quickly, but is always making more….drop her a line to see what she has in stock…and tell her Florida Hillbilly sent ya! And yes, she ships!
I posted about my first gator hunting experience a month or so ago. Since we only harvested one gator on that day, we had an additional tag to fill. So when my cousin Josh called me to set up another run into the wild wetlands of Helen Blazes at the headwaters of the St. Johns river, I was happy to clear my calendar to make it happen on my end. I had a little more understanding of what to expect, and now was almost as seasoned a gator hunter as the other two…(those misleading buggers!)
Traveling there was an adventure in itself (stay tuned for that little story…), but I was again able to arrive the night before, with enough time to get in three hours of sleep before waking to hit the water. The best news of the trip was  that the cooler weather setting in (if you can call 70 degree nights "cool") had seemed to ease off the mosquito problem. While we launched the boat, we didn't receive a single mosquito bite, though it may have had something to do with the full body immersion in 100%DEET that we had done for the occasion. And even better, there were at least four gators right around the ramp!
We only saw one other boat, a VERY spiffy airboat, and they launched after we did..we were first on the water, and alone for the first 30 minutes! Alone except for all of the glowing golden eyes reflected in the spotlight. Gators were still here, and quite a few of them! In total, we traveled about 3 miles, and saw roughly 20-30 or so different gators from 4am until 10am. Some small, a few that looked decent, but they all had one common trait- they were skittish.
As we'd spot them, they'd quickly drop out of sight. If we waited for them to come back up and put the spotlight on them a second time, they would move back into the cover of the weeded shoreline and floating vegetation, effectively preventing us from trying to catch them. We were stumped!
And worse still, as dawn approached, either the bug spray we had used wore off, the spotlight attracted them, or they were looking for one last meal before the sun pushed them back into the shadows like the blood sucking vampires that they are…they mosquitoes descended on us in DROVES! I had so many flying around my legs (shorts were NOT a great idea I realized) that at one point, I saw mosquitoes pushing other mosquitoes onto my skin, like some sort of blood sucking mosh pit, with me as the barrier and feeding trough.
So we changed tactics a bit, and decided to try the "Run n' Gun" method. The moving air helped eliminate most of the skeeters, and allowed us to cover more area.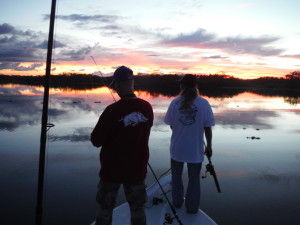 Other than fewer bug bites, it was equally useless. The gators had been getting quite a bit of hunting pressure, or possibly the dropping barometric pressure from the bad weather off to the west was making them shy. Either way, it looked like we were about to be stumped at bringing any gator meat home that day….
…until I started to think outside of the box. I was able to score with my unorthodox planning. As you scroll down to see my method, don't judge me. You weren't the one that spent two hours on a Greyhound bus to the only get three hours sleep so I could go become a blood sacrifice for the millions of teeming mosquitoes, and then to be frustrated my a stupid lizard that seemed to be smarter than we were.
So as 10am approached, calling and end to the hunting day, we headed back towards the boat ramp. As we came into sight, we saw the same airboat from the morning already loading up. HA! Out late, and back early! How good could they have done?
Well, it seemed that they had done alright, filling TWO tags each with an 8 foot plus gators. Grrr! As we finish loading our boat on the ramp, I went to pull the Ace from up my sleeve.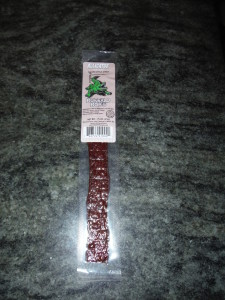 I went in to pay the ramp fees at the fish camp, and while I was there, I bought some gator jerky.
Papa's bringing home the gator! Only its in a plastic wrap and already processed and preserved.
At least we had a good time, mosquitoes aside. And we still have until November 2 to fill out the tag. And we discussed other options to allow us to get in closer, and have some ideas in mind. We'll see how it goes.
At least moving forward, I know that the other two are at least as frustrated as I am, and are learning how to do this right along with me. Spending time with good folks is always a great way to pass the time, and these are some of the best. We've also made plans for shrimping later in the year, and since I recently picked up a new freezer (for all that gator meat, sadly), I'll be wanting to fill it with SOMETHING!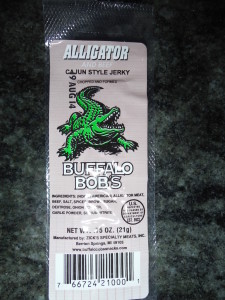 And by the way, the jerky was pretty good…considering it wasn't MY jerky 😛
It was Buffalo Bob's Cajun Syle Alligator Jerky. The flavor was Cajun style, and was a little on the spicy side. As far as jerky goes, I'd call this better than most. You can find it here on Amazon.
Buffalo Bob's also offers buffalo (obviously!), elk, ostrich, venison, wild boar, antelope, kangaroo, pheasant, and of course beef flavored jerkys and meat sticks. 
I should see if they want to sponsor me…or even adopt me!
Peace,
db
As always, please "like" FloridaHillbilly on Facebook, subscribe to my feed,  follow me on Twitter, add it to Google+, Pinterest, Linkdn, Digg, and/or tell your friends! The more folks that start behaving like ants, the fewer grasshoppers there will be left needing help.
Need something from Amazon (and who doesn't)? I earn a small commission from purchases made when you begin your Amazon shopping experience here. You still get great Amazon service and your price is the same, no matter what.