Today's article was brought to you by the generous folks over at Hides.com. Go check out their great line of "Multifunction Eyewear Necessities", and tell them FloridaHillbilly sent you!
For every road trip, I like to have certain items packed up in a small cooler, located close at hand. Water to drink, some fruit, nuts, pork rinds, and of course, jerky. To me, nothing says "ROADTRIP!" like a big old bag of jerky. Beef, pork, rabbit, alligator, venison…. just about any type of meat , I don't care.
Sometimes it is store bought, sometimes I make it myself in my Excalibur dehydrator. I either make it from from ground meat, or when the wife isn't involved, I use whole muscle meat for some of the "Real Deal" jerky. The wife prefers the ground meat version, made with a jerky gun, but I love tearing apart sheets of unground, sliced meat with my teeth, then chewing on it until my jaw aches.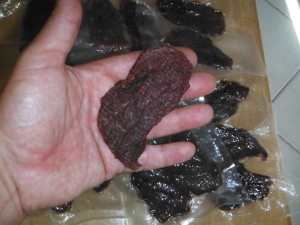 Nothing makes me feel more like a caveman…
Since I'm now out (again!), it looks like I need to find something to make jerky out of….anyone seen any manatees around?
Manatees are huge! I'm gonna need a bigger dehydrator…..
Some Jerky related articles I've written:
Peace,
db
As always, please "like" FloridaHillbilly on Facebook, subscribe to my feed,  follow me on Twitter, add it to Google+, Pinterest, Linkdn, Digg, and/or tell your friends! The more folks that start raising their own food, the fewer folks to tell you, "I'll just come to your house if it gets bad".
Need something from Amazon (and who doesn't)? I earn a small commission from purchases made when you begin your Amazon shopping experience here. You still get great Amazon service and your price is the same, no matter what.