Share the post "Long Term Storage for Spices"
Went to Sams a while back, and picked up a cartload of spices. After getting them home, I realized I'd not be able to keep them long enough to get full use out of the containers, so I starting looking at options for breaking it down into smaller portions, or at least into a resealable container system.
Light and heat are two great methods for cooking, but are very bad for anything stored long term. Air is also a culprit in remove the flavor from my flavor enhancers, so vacuum sealing was a requirement as well. What I opted for was to repackage my spices into mason jars and then vacuum seal them with my Food Saver jar sealer attachments.
The process is simple: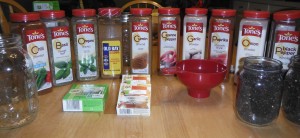 Buy spices in bulk to save money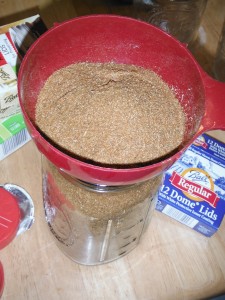 Portion out the spices into jars. A canning funnel is very handy for this. I'd also recommend smaller jars to allow smaller portions to be exposed when opening them for use. Next time, I'll use pints and half-pints.
Wipe the rim of the jar to be sealed
Vac seal according to your vacuum sealer's instructions.
Label each jar well
Store in a cool, dark place
That's it!
Here is my end result: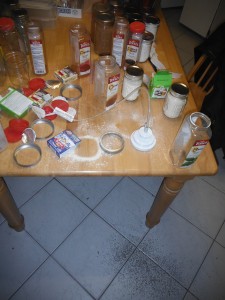 While you are at it, be more careful than I was. Powdered spices can REALLY fly around a lot! Cleanup can be a bear!
Peace,
db