Share the post "SHTF TV – picking them apart – The Walking Dead"
This is a series I've wanted to do for a while. Some shows do a fair job at portraying "What might happen if…" type scenarios…some fall very short though. The good news is that the more SHTF TV is shown, the more sheep start to think about the possibility of things going wrong, and hopefully, start them in taking personal responsibility.
Today's topic is the TV series "The Walking Dead" (NOT the graphic novels). Warning: SPOILERS!
The Walking Dead is an American television drama series based on the comic book series The Walking Dead by Robert Kirkman, Tony Moore, and Charlie Adlard.

The series is based around sheriff's deputy[1]Rick Grimes, who awakens from a coma to find the world dominated by flesh-eating "walkers", resembling the zombies of George A. Romero's horror movies. Rick sets out to find his family and encounters other survivors along the way.

The Walking Dead premiered on October 31, 2010 on the cable television channel AMC.
——————————————————————————————————–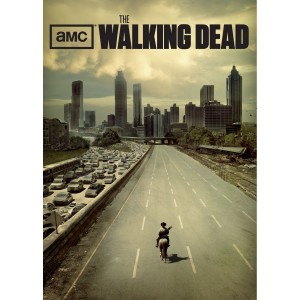 I've read the first 4 or 5 of the comics, err…, "graphic novels", and enjoyed the story lines very much, enough that I was mildly interested in seeing the TV show based on them. I'm not a horror movie fan, but the "be prepared" part of me likes to see the survival aspect of shows like this. Unfortunately, most horror movies are not about survival, they are about killing off everyone in a bloody, gruesome manner.
Not so with The Walking Dead. In  fact, the zombie part is almost just background noise for a large part of the story, in my opinion. Replace "zombie" with "economic collapse and roving bandits" or "systemic breakdown and road-warrior thugs", and you'd still be able to use most of the storyline. The Walking Dead is about people trying to survive a SHTF scenario and each other at the same time. Call it "the thinking man's zombie show", since I feel, it bring much more reality into the story.
Overall, I think The Walking Dead is a must-see. However, there are several things I find massive fault with in the TV show.
The story is set in Georgia, mostly rural areas. Shooting for the series stays fairly true to form, in that it is shot in and around the greater Atlanta area, particularly Senoia, GA. I will use that as a reference, since it parallels the story.
Issues I have:
According to this site, there are 1620 registered gun dealers in the state of Georgia. Of those 1620, 10 are listed within 10 miles of Senoia. As a deputy sheriff, Rick would have known of at least a couple of them. Expanding the search out to 25 miles (a reasonable distance to drive for a deal BEFORE the SHTF), you come up with 81 registered dealers. There are various store in the area that sell guns and/or ammo, and while some may have already been ransacked, there would still be available ammo in some of them. The speed that the undead swarmed the land would have prevented all but the very astute from looting the guns and ammo. Looking at the LA riots and what was looted, it seems TVS and stereos tend to be the typical looted items by those looking for opportunity, at least initially.
My point being, there should be a HELL of a lot more guns  and ammo available. Georgia is predominately a rural state, where hunting is a common pastime. While stores tend to be in the more populated areas, thus more undead, the more rural and secluded homes would be far more likely to have guns and ammo. Watching the show, it looks like 95% (or more) of the people are dead…and with the undead not using weapons, there should be a BUNCH available.
Bugging out vs. bugging in. Once Rick meets up with his family, they start to wander from place to place, looking for security. They understand the lethality of the walkers, and are gradually learning methods to dispatch them efficiently, yet not until the prison do they go about clearing a safe place on a large scale. This confuses me. The school looked promising, and with a cafeteria, should have had plenty of supplies for such a small group. Again, being an officer of the law, he should have been aware of emergency shelters that, while may be overrun, would also make a decent place to clear and make into a safe haven. He should also know of just about every secure place in his area, he grew up there, and security was his job!
The prison. How does a deputy NOT know about a prison of that size, or think about one as a place to defend far sooner than he did?
Carl, Rick's son. What adult would allow a child to wander around like Carl did when the world is covered by undead wanting to feast on human flesh? NOT a real situation, IMHO.
Planning. The CDC even knows how it works, "Get a kit, make a plan". Why don't these people PLAN? There WILL be more zombies. What do you do if…
They have no idea.
They can practice with their guns, but no way can they work out a contingency like "if we have to leave the farm, where should we meet?" When my youngest daughter was FIVE, she knew that if the house caught on fire, get out and meet at the "lizard house" across the street (The have three foot long metal lizard statues on the porch). My five year old understood the "just in case" part of an every day possibility. If she knew there were zombies, she would have known that too. Why can't Rick and his group?
Cars! With everyone dead, why can't they find cars? Gas? Sure the fuel will go bad eventually, but diesel autos are common enough, and diesel stores longer, so should be available, particularly the farm diesel, most times already treated for long-term storage. Hershel, as a farmer, would have known this.
Power. Solar panels are common enough on roadside signage, why not utilize them?
Finally…leadership. Rick is the leader, like it or not. Why can't he just lead? Too wishy-washy for my tastes…Yes, it makes for more drama, but if I were a part of that group, I'd have appointed Daryl leader and hopefully left town with him, taking whoever would follow. Crud!
EDITED TO ADD: Books! Why wouldn't they stop complaining about the lack, or poor quality, of reading material and stop at a library to pick up entertainment, and more importantly, how-to books?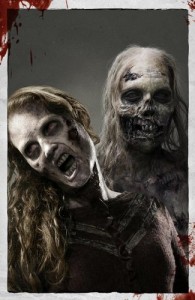 Overall, its a great story. I love the fact that they do NOT follow the comics exactly, and while they both end up with roughly the same end result, they get there is FAR different ways. Having read the books, I'm happy to say I've been surprised repeatedly by the TV show.
But those guns! C'mon! It's Georgia! Where are the guns!?@!??
Peace,
db
Notes:
Preparedness 101: Zombie Pandemic