Share the post "The Value of Backyard Protein"
I've often been asked what price I'd charge for the rabbits, quail, ducks, or chickens I raised in my backyard. I've done some rough estimations on what I have invested in each animal, but the number of variables staggers me.
Do I include electricity used to pump the water for the automatic waterers?
Should I put a value on the table scraps and leftovers that I feed to the animals?
What about gas spent in picking up feed? Or my labor in harvesting and dressing them out?
These and many other questions pop up every time I try to figure what the price of my home raised protein is.
So instead of trying to figure what it costs me to raise it, I decided to price out the replacement price, or simply put, see what the local grocery store charges.
I was actually shocked at the price the local store puts on the same meat I raise.
Rabbit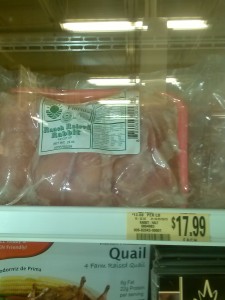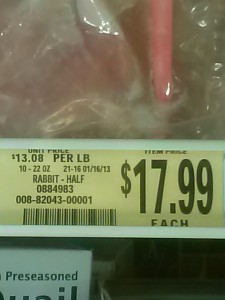 As you can see in the picture on the right, rabbit is $13.08 a pound. I harvest my rabbits at around 8 weeks of age, yielding roughly 2-3 pounds of dressed out, bone-in meat. That means that in order to replace one of my rabbits with something purchased at the local store, I'd pay $26.16 to $39.24.
I'm not sure what I have invested into each animal by the time it reaches harvest weight and age, but I'm almost positive that it would be less than $25 each.
Quail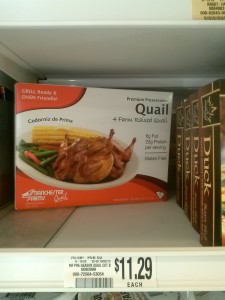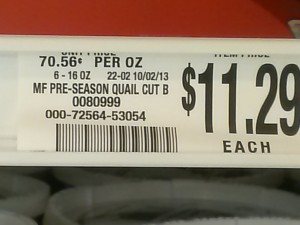 Quail is a little less expensive at 70.56 cents per pound, or $11.29 per pound. Each one-pound package consists of four birds, about half of what I'm seeing in my birds at 8 weeks, so it takes me two to three birds to yield a pound.
That puts the price per bird at $3.76 to $5.65, not a bad price, and pretty close the the asking price of live birds. This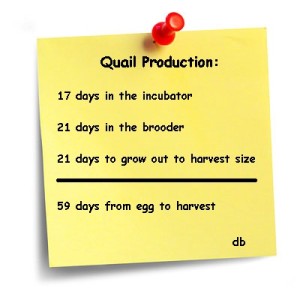 seems like a much better deal, until you factor in egg production.
If you look back through my quail articles, you'll find that it takes 59 days to achieve a harvest-sized bird from an egg. Of those 59 days, the last 10 days the hens can start producing eggs, roughly 3-6 eggs per bird for that time period.
You can buy 30 quail eggs for eating at Amazon for $20, plus $4.95 shipping. At $0.83 cents per egg,  3-6 eggs adds up to almost the value of the bird itself ($2.49 – $4.98).
Factoring in egg production, raising quail is also cheaper than buying them.
I do not have any data on duck meat, as Muscovies are hard to find in the store
Chicken is one of the least expensive meats, until you figure in fee-range, antibiotic free, (and tasty!) chicken. Raising your own chickens is also a guaranteed money saver, when you compare apples to apples. (Do NOT compare the $10-$15 dollars it costs you raise your own birds against the factory-rasied CornishX pop-tart birds that take less than 3 months to reach harvest weight…however, raising some yourself can produce a respectable product in that same amount of time, with YOU controlling their inputs…just a thought.)
 ======================
Yes, this is mostly just a simply, useless exercise in number crunching. I do NOT buy rabbit or quail at the store. And I don't buy quail eggs for eating.
However, if I were to choose between the two options based on cost alone, I've proven it is probably less expensive to produce it myself.
And this doesn't factor in the added value raising your own animal protein provides, like knowing the animals had a good life, what the animals were eating, what antibiotics they consumed (none, I hope!), and the freedom providing your own food gives you.
But then what do I know, I'm just some hillbilly with a computer, the ability to string words together….
                                                                       ….and to raise some of my own food.
Peace,
db
As always, please "like" FloridaHillbilly on Facebook, subscribe to my feed,  follow me on Twitter, add it to Google+, Pinterest, Linkdn, Digg, and/or tell your friends! The more folks that start behaving like ants, the fewer grasshoppers there will be left needing help.
Need something from Amazon (and who doesn't)? I earn a small commission from purchases made when you begin your Amazon shopping experience here. You still get great Amazon service and your price is the same, no matter what. And for the record, all of my Amazon links provide me with this referral fee.