Share the post "Waste Not, Want Not: Banana Bacon"
Seriously, when I first read about this, I would have sworn it was a joke. But since I grew up in West Virginia (we eat everything!), and I was so poor at one point that I was lucky to get a meal a day (hunger is a POWERFUL motivator!), I figured that I should at least give this a try.
You will probably laugh, but I read that not only is the fruit edible, but you can also eat the peels from…bananas (and/or plantains).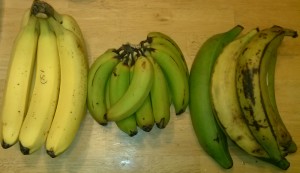 I stumbled across several articles that all stated that banana peels were edible, if a bit stringy and astringent. I also read that you could fry them, and in doing so, they became a little more palatable…
So I took it where it should go, I added pork fat. And not just ANY pork fat, but bacon grease. And by frying banana skins in grease rendered from top-notch smoked bacon, you end up with a product that is fairly close to bacon, and definitely more so than "turkey bacon". And for those that are playing along at home, its 100% Paleo, as far as I can tell. And from the way I look at it, the peels are the better part of the fruit since they contain less sugar.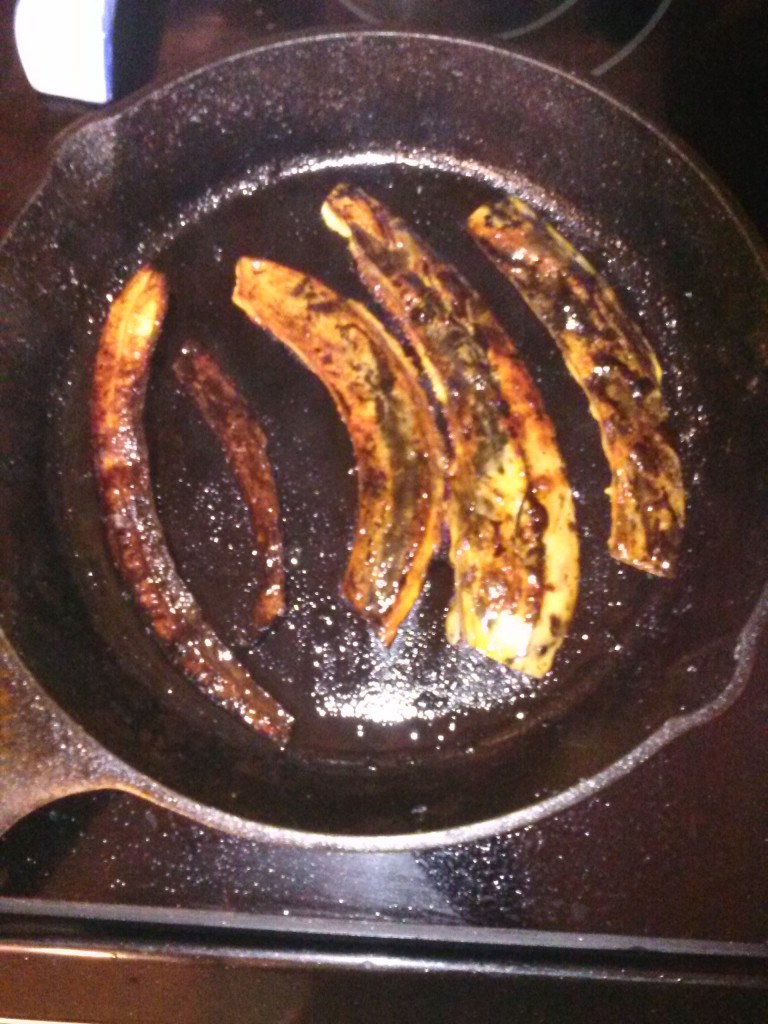 The process is as simple as it sounds. Peel a banana. Fry it in bacon grease. I would recommend washing the banana before peeling, and definitely remove any stickers or sticker residue. And from what I've found after having made a couple batches of banana bacon, the darker peels seems to crisp up better.
And as to flavor, the bacon flavor really shines through. However, there is a subtle undertone of banana, and due to the caramelized sugar in the peels, you also get a bit of roasted marshmallow flavor. Yeah, I said that.
Is it bacon? Of course not. It is my opinion that meatless bacon can NEVER be bacon. In fact, you've got to try mighty hard to convince meat that you can make bacon out of anything other than a pig – all other options are simply a smoked, cured meat product resembling bacon. To me, to really be bacon, has to have that pork fat in in. (Though having said that, I'm eating buckboard bacon for breakfast made from beef. And happy to do so. Damned fine eats…but NOT bacon.)
So the next time you peel a banana, instead of composting it (you DO compost all your kitchen scraps, doncha?), think about frying it in some bacon grease as a joke.
But tell me you won't do it again, once you taste it.
Peace,
db
As always, please "like" FloridaHillbilly on Facebook, subscribe to my feed,  follow me on Twitter, add it to Google+, Pinterest, Linkdn, Digg, and/or tell your friends! The more folks that start behaving like ants, the fewer grasshoppers there will be left needing help.
Need something from Amazon (and who doesn't)? I earn a small commission from purchases made when you begin your Amazon shopping experience here. You still get great Amazon service and your price is the same, no matter what. And for the record, all of my Amazon links provide me with this referral fee.