Share the post "Another Kayak Outing (sort of) and a visit to Okeeheelee Park Rentals"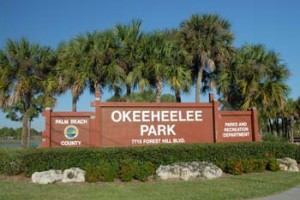 I have a daughter that played in the USSSA Fast-Pitch Girls South Florida 12U "B" State Championships this weekend at
Okeeheelee Park in West Palm Beach, FL
. This was a three day tournament starting Friday morning.
Like in many competitive sports, siblings get to tag along, and many times are bored senseless. Several of my daughter's teammates have brothers that get to enjoy the boredom, and many times get into mischief as some boys (ok, ALL) are known to do. This weekend was typical, and three of the boys were getting antsy, looking to relieve the boredom…My guess included fire, explosions, or both, being this close to the 4th of July. Boys WILL be boys!
On my way into the park, I notices a kayak rental facility, next to a large lake. Since one of my current short -term obsessions is kayaking, I did some research, and offered two of my kayaks for Saturday for the boys to keep them occupied. One of the boys, Zach, was VERY helpful, and did a large portion of the work, doing what he could to help. The other two also were helpful, and as far as I could tell, all three stayed out of trouble. Mostly, it worked out well.
I recently purchased a set of two Thule 897XT Hullavator kayak roof rack systems, along with a Thule Complete Crossroad System load bar (look forward to a review soon!), in order to make transporting kayaks much easier on myself and the wife. They are WONDERFUL! FABULOUS! EXTRAORDINARY!
Yes, I like them A LOT! (see them in use here)
So I had the racks to use, and two kayaks as well, so I loaded everything up for the three boys to use. Yes, even I can do the math. Three boys on two kayaks is trouble waiting to happen. That is where the rental company came in to play. The boys' parents would take turns renting ONE kayak, so that all three would stay occupied…and out of trouble.
Walking in to the establishment, Okeeheelee Park Rentals, I was greeted by a very friendly operator named Roger. He stepped me through the paperwork, took the money, produced a kayak, seat, paddle, and PFD (life jacket), and was very friendly and helpful the whole time.
I am a HUGE fan of quality service. South Florida has more than it's share of businesses that just don't understand how keeping the customer happy is a requirement for continued business.
The folks renting kayaks at Okeeheelee Park Rentals are NOT one of those businesses.
You see, I had brought a PFD for each kayak, but recalled after arriving that one is a full blown Mustang Survival Class III flotation coat – heavy enough to keep you warm in freezing temperatures…not what you want to be wearing in summer in Florida! And wearing your PFD is mandatory while in the park if you are under 18. Crud!
I went back and explained the situation to Roger and asked about renting one for the boys, and without hesitation, Roger grabbed a PFD, tossed it to me and said "Don't worry about it". Nice!
Returning on Sunday,  I walked in to rent one, this time with cash in hand to force the issue, and was again snubbed when trying to pay – Roger wouldn't take the money for a safety device. Safety and customer service over income? PSHAW! Who does THAT?
A business that CARES!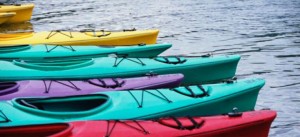 So I'm reccomending anyone interested in kaying in the West Palm Beeach area to give the folks at Okeeheelee Park Rentals and/or www.kayakkingwatersports.com a try. They offer  kayaks, pedal boats, canoes, and bikes to rent, as well as offering sales kayaks, stand up boards, bikes and boating accessories. They can be reached at 561-304-1344, or on the web at www.kayakkingwatersports.com. And tell them "Florida Hillbilly" sent ya!
Remember when I said "Mostly, it worked out well" ?? Well, it seems one of the boys decided bringing his backpack containing a phone belonging to his sister (who was playing in the tournament at the time). Yes, it got wet. Yes, it stopped working.
Better still, his phone also got wet and is STILL wet – on the bottom of the lake where he accidentally dropped it overboard, while horsing around.
Boys WILL be boys!