Share the post "My Bookshelf – Back To Basics"
As I've mentioned before, there are a lot of self-sufficiency, survival, or homesteading books that I own. I will list each book one at a time, and will consist of books I own and consider a resource to rely on. Some are on my Kindle, others are paper pulp, but all are worth reading for one reason or another.
I treat books like a squirrel treats acorns – something to put away during easy times to allow you to get through the leaner times, and each has the potential to grow into something great.
Here is today's book:
Reader's Digests'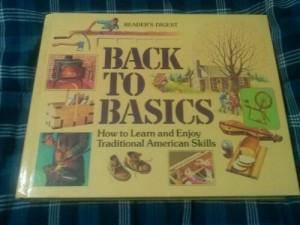 "
Back To Basics, How to Learn and Enjoy Traditional American Skills
". This is not my favorite traditional skills book, however, it was my first, as far as mainstream media goes. (
The Foxfire series
was from a little known publisher when I started reading it. I'll get to that series soon, promise!)
I have been an avid reader of Reader's Digest since as far back as I can recall. When I was growing up in West Virginia, having moved from Detroit, I was a little culture shocked at the change of pace…. and then simply confused as to why all of the kids that had grown up living in West Virginia didn't look, act, talk, or have the skills I assumed they all did. Skills I wanted to learn.
With Davey Crockett and Daniel Boone being heroes of mine, I wanted to learn all of the ways a, ahem, Country Boy Can Survive. Back To Basics helped teach me many of those things. More importantly, it taught me that books can hold the knowledge I sought.
covers many different topics:
Land Buying
Energy from Wood Water, Wind, and Sun
Raising Your Own Vegetables, Fruit, and Livestock
Enjoying Your Harvest The Year Round
Skills and Crafts for House and Homestead
Recreation at Home and in the Wild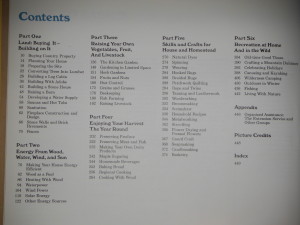 Each topic is broken down into more detail (see pic to the right, click to enlarge) with enough information to let you find out if you're interested in learning more about various aspects of each topic. There are plenty of illustrations and pictures arranged in a logical flow of information. However, remember that this was published by Reader's Digest, who wrote the book (literally) on condensed writing.
With that being said, it really does give you enough information on most topics to get a very good feel for getting started, the process, and some of the possible issues. For instance, there are 11 pages dedicated to blacksmithing, a skill I hope to someday learn. In those 11 pages, there are a total of 84 pictures and illustrations, and 8 projects. There is enough information to find out that you are interested or not. Once you've read each particular section, you can seek out more detail instructions elsewhere, or simply start on your own with the information given and probably do fairly well.
 Overall it is a great book for those starting out, or wanting to branch into other sections of homestead, self-reliance, or simply learn about the life that a lot of our grandparents and great grandparents lived.
My particular copy is the second one I've owned, I lost the original in all my wanderings in my gypsy days…Since it is an older book, you may be able to find it at yard sales like I did or in used book stores. Otherwise, Amazon carries it here, both new and used, and priced accordingly. Unfortunately, it is not currently available in Kindle format, or for any eReader that I've been able to find.
That's it, take us home, Bocephus….
Peace,
db
As always, please "like" FloridaHillbilly on Facebook, subscribe to my feed,  follow me on Twitter, add it to Google+, Pinterest, Linkdn, Digg, and/or tell your friends! The more folks that start building their own reference library, the more likely we all are to survive bad times….and save money on late book fees at the local library!
Need something from Amazon (and who doesn't)? I earn a small commission from purchases made when you begin your Amazon shopping experience here. You still get great Amazon service and your price is the same, no matter what.