Share the post "Back Water 2 Blue Water Kayak Fishing Club"
Today's article was brought to you by the fine folks over at Reef-Hunter.com. Go check out their great line of custom apparel, and tell them FloridaHillbilly sent you! (click to open a new page)
Two guys I swap fishing lies stories with have been working on gathering a list of folks that want to go kayak fishing. They have loosely put together an email list and a text message group for the sole purpose of getting folks that fish out of kayaks together to expand their fishing locations, abilities, and knowledge.
In order to better explain what they are trying to do, they've decided to call it Back Water 2 Blue Water Kayak Fishing Club. (Everyone wants to belong to something, right?) The premise is simply kayak fishing. Anywhere. With others. Most of the fishing is done in the Ft. Pierce, Jensen Beach, and Stuart areas, but also traveling to other places from time to time.
The cost…is free. No dues, no signup costs, no initiation…free. They just want to fish. The payoff for your one-time fee of zero dollars is being added to a contact list that lets you know whenever someone has time to go out fishing from their kayaks.There are also monthly meetings, and LOTS of chances to get out on the water fishing.
I was initially contacted by one of the co-founders, Frank. I've known Frank for almost ten years, but had no idea of his hidden agenda – kayak fishing. He mentioned kayak fishing in passing one day, and pardon me, but I was hooked. (Had to say it!)
If you've read my articles when I speak of fishing, you should realize that I have an overabundance of enthusiasm, but a lack of actual knowledge. The other co-founders, Scott, has got to be one of either the luckiest fisherman I know, or a guy that actually knows his stuff.
The first time I ever saw him, it was around 1am, and my brother and I had been fishing one of the local bridges for a couple of hours, chasing snook (a saltwater gamefish similar to a largemouth bass, only MUCH larger, and a better fighter in my opinion), with very little success. Scott, a stranger to me at the time,  strolled in with a bait bucket and a pole. He baited with a plump shrimp, then walked, dragging the shrimp along the shadow line that ran below the bridge cast from the overhead street lights.
Within minutes, he had his first fish, a legal snook. He expertly landed it, then walked it over to his bait bucket. Rebaiting he repeated the same procedure, walking the shrimp along the shadow line… Less than 10 minutes later, he had a second legal fish. (This was back when you could keep two snook over 26 inches).
He loaded them up into his truck and drove home. In less than 30 minutes, he arrived, caught two legal fish, and headed home…leaving my brother and I standing there with gaping mouths, wondering who this guy was.
I've since ran into him a few times, and have developed a friendship, based completely on fishing. And now I can learn his tricks since he is part of the "Backwater 2 Blue Water" Kayak Fishing Club. He offers his advice freely. And I can follow him around and copy what he does…..
…well, try to. Trying to copy catching a fish is still up to the fish…but I'm learning!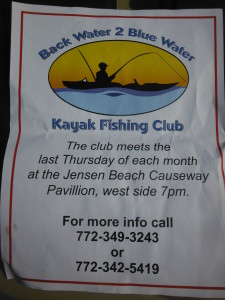 The group is currently only a dozen or so strong, but we are looking to grow it. The monthly meetings are held on the last Thursday of each month at the Jensen Beach Causeway Pavillion, west side at 7PM. The next meeting is this Thursday.
I say "we" because I've been to every meeting…one so far. We've had about 6 listed trips, and I've joined on three of them.
The trips all have started the same way – meeting at Dunkin Donuts in downtown Jensen Beach at 530am. A cup of coffee and a few lies pleasantries, then the open discussion of tides, weather, temperatures, water quality, and wind. A plan of attack is developed, and we head out.
I've always enjoyed myself. Sometimes I catch some nice fish, other times, I am just happy to have gotten a decent picture or two, since the fish were smarter than I was that day. It happens…If you were always successful, they'd call it "catching" instead of "fishing".

Its a loose, relaxed group, with people willing to try anything.
And to me, the best part is having the safety of numbers. My wife has no desire to get up at 430 to go out fishing. I also have very few friends with that desire. So I'm forced to look outside my circles…or expand my circles to include those with my interests in kayak fishing. The folks are now part of my circles. My wife can rest easy, knowing that I'm not out on the water alone….
This Tuesday, I'll be at Dunkin Donuts at 530, hoping that the ocean has laid down flat, so that we can go offshore a bit and try our luck, something I've not done yet. If the ocean is better for surfing than for fishing, then we'll go somewhere inshore. Either way, we will be fishing.
So if you are interested in kayak fishing along the Treasure Coast, you can email them at backwater2blue at gmail.com. Or, if you prefer phones, you can call Scott (top number) or Frank (bottom number) at: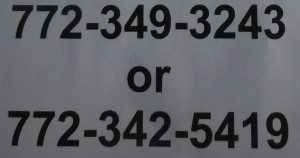 I'm happy to have new people to tell my fishing lies stories to. My wife and kids are tired of hearing them.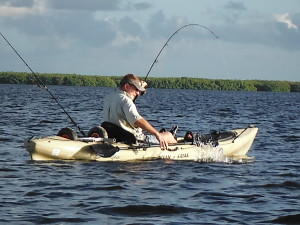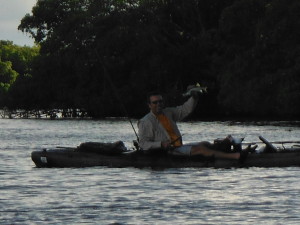 Peace,
db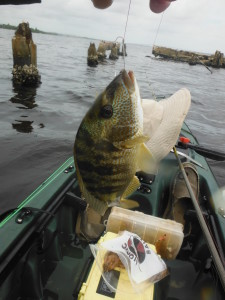 As always, please "like" FloridaHillbilly on Facebook, subscribe to my feed,  follow me on Twitter, add it to Google+, Pinterest, Linkdn, Digg, and/or tell your friends! The more folks that start behaving like ants, the fewer grasshoppers there will be left needing help.
Need something from Amazon (and who doesn't)? I earn a small commission from purchases made when you begin your Amazon shopping experience here. You still get great Amazon service and your price is the same, no matter what.