Today's article is brought to you by JM Bullion! If you are looking to get started investing in precious metals, or add some more to your portfolio, give the folks over at JM Bullion a shout. Seriously. Check them out!
I spend lots of time in my kayak. And since I usually have quite a load in it between me, my fishing gear, possibly dive gear, a battery, and a motor, I sit rather low in the water. This means I tend to sit in a pool of water most of the time. Add in the fact that, while large, my posterior isn't as padded as you might think, so even sitting on the padded kayak seat doesn't protect me much from the hard plastic of the kayak. It just makes my butt hurt sitting so long.
So last week, when I saw one of the Back Water 2 Blue Water guys with an elevated seat on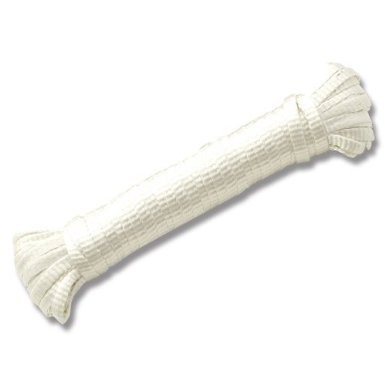 his kayak, apparently a factory item on most
Jackson kayaks
, I knew I had to make one…so I did.
Using some scavenged 3/8 inch mule tape that was originally used to pull wires, I wove a seat on a PVC pipe frame.
I was able to use "standard" PVC fittings, so I was able to source everything locally. I used 1 in PVC, since that was the size that best fit into my scuppers.
Installation is simple – set in place, one leg in each scupper on the rear side, a cross beam between the front legs. Then I take the existing "padded" kayak seat and snap it in, holding everything in place.
Here are some photos (click on each picture to enlarge it):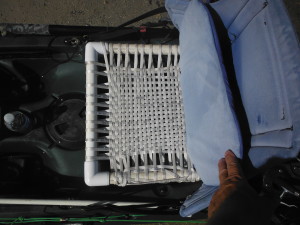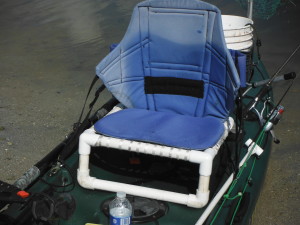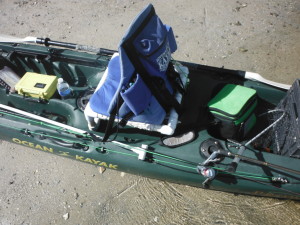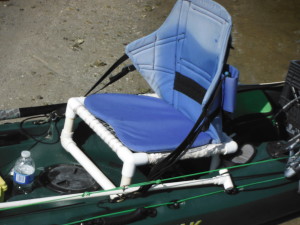 The verdict? First, it is FANTASTIC! After almost 4 hours of fishing, my rump wasn't in the least bit sore or numb. I also stayed very dry, another great feature.
However….the 6 inches of elevation is a bit too much. Each time I shifted my weight to either side, I felt like I was going to fall over. So I'll be lowering the legs about 3-4 inches. This will still keep my rump on the web padding, and keep me dry. It also leaves a bit of storage room under the seat for small tackle boxes.
Either way, I now have a new seat for my kayak, an added feature that I'll probably use even more than the motor I installed.
Pardon me butt (*eyeroll*), my ass thanks me!
Peace,
db
As always, please "like" FloridaHillbilly on Facebook, subscribe to my feed,  follow me on Twitter, add it to Google+, Pinterest, Linkdn, Digg, and/or tell your friends! The more folks that start behaving like ants, the fewer grasshoppers there will be left needing help.
Need something from Amazon (and who doesn't)? I earn a small commission from purchases made when you begin your Amazon shopping experience here. You still get great Amazon service and your price is the same, no matter what.