Share the post "My 2013 Lobster Mini Season Results"
Today's article was brought to you by the fine folks over at Reef-Hunter.com. Go check out their great line of custom apparel, and tell them FloridaHillbilly sent you! (click to open a new page)
Every year, the Florida lobster becomes the obsession of a large mass of people…Some of those people only go diving the for the two day mini season, making them far from skilled divers.
No, not all of them…but enough that I usually avoid lobster mini season.
Since I dive for part of my living, I have a LOT of hours under my belt. And while I have a lot of experience, I also have bad habits, I'm sure.
But in a pinch, I DO have that experience to rely on, something the "greenies" don't have. That is reason enough to avoid the water on those two days…Add in the sheer number of boats and people on all of the "good" spots, and you have a one-two punch combo that knocks me out of the running. I'm just not THAT into fighting the crowds.
But this year, I scored a little better than I have before.
Here is what I have to show for this year's Lobster Mini Season: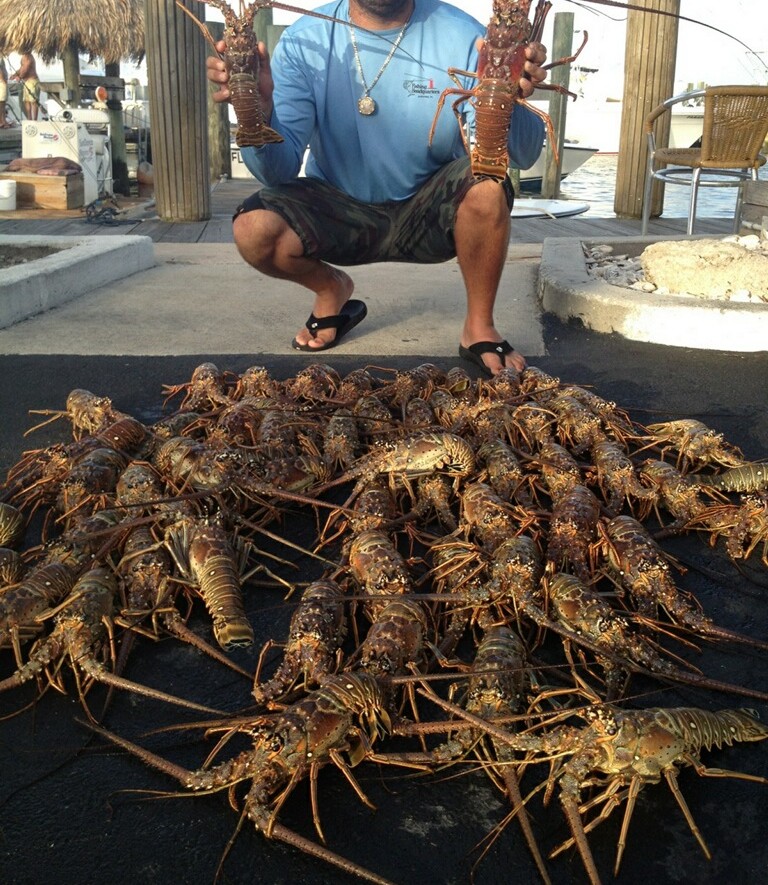 Even I thought that maybe the crowds weren't such a big deal…
Peace,
db
As always, please "like" FloridaHillbilly on Facebook, subscribe to my feed,  follow me on Twitter, add it to Google+, Pinterest, Linkdn, Digg, and/or tell your friends! The more folks that start behaving like ants, the fewer grasshoppers there will be left needing help.
Need something from Amazon (and who doesn't)? I earn a small commission from purchases made when you begin your Amazon shopping experience here. You still get great Amazon service and your price is the same, no matter what.
PS- All I scored for mini season this year was the picture you see above. Just a picture. And, it is a year old! Thats a picture of my buddy, Mark, with his haul from last year's mini season. I STILL wouldn't go, even with the chance at getting a haul like that…but I WAS tempted.
BlueTang and I plan on doing some lobstering from our kayaks,  now that we have our motors and tags on them….but we won't have catches like the one pictured above….but we also won't be fighting crowds either.
And I'm good with that tradeoff..