Share the post "Choosing Your First Handgun – Currently a Free Kindle Book"
Update 27 March 2013: This book is no longer offered as a free download, unless you are an Amazon Prime member. The price listed at the time of this writing is $6.99. However, even at that price, I consider this an excellent first step before purchasing your first firearm. db
Sorry about taking so long to get today's post out. I was trying to finish reading through a book, since it is currently free. I was able to skim through the final bit, enough to realize I needed to put the word out while the deal was still good. It was worth the wait, and worth getting, even if you don't currently have a Kindle.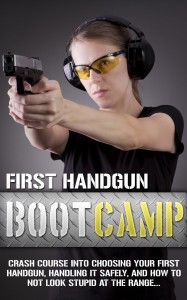 As I write this, you can pick up "
First Handgun Boot Camp – Choosing your First Handgun, Handling it Safely, and How to NOT Look Stupid at the Range
" at
Amazon
for free. The book walks a complete novice through the basics of handguns, terminology, safe handling, operations, calibers, and many other topics.
Having grown up with guns, I'm not the target audience. However, I have many readers that apparently are who the book was written for. If you've never handled a gun before, but have wanted to but had no idea where to start, I'd HIGHLY recommend getting this book. While it's is far from everything you need to know, it is a great first step in becoming a gun owner.
That's all I"m going to say. It's worth the typical list proce of $6.99, but like I mentioned above, right now you can get it for freeeeee!
What are you waiting for?
Peace,
db
 As always, please "like" FloridaHillbilly on Facebook, subscribe to my feed,  follow me on Twitter, add it to Google+, Pinterest, Linkdn, Digg, and/or tell your friends! The more folks that start preparing themselves, the less likely they are to expect YOU to use YOUR firearms to protect them from the  zombies.
Need something from Amazon (and who doesn't)? I earn a small commission from purchases made when you begin your Amazon shopping experience here. You still get great Amazon service and your price is the same, no matter what.