Last weekend on Saturday morning, the wife and I hit another local green market, located in Ft. Pierce. It's broken into two sections, crafts and edibles. We blazed through the crafts, but took our time in the edibles section. The selection of both was fantastic, but the food section was what we were there to see. And oh my was it worth it!
Custom tea blends, fresh, home made goat cheese, raw milk for pet consumption, pickles, chutneys, sauces, fruits, veggies, chips, dips, crackers, chocolates…the list goes on and on. Plus there were vendors on site there to feed you, BBQ, muffins, omelets, and other things that made me realize we REALLY should have eaten before going there.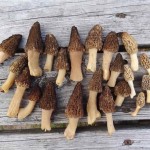 One of the booths was Oyster Island Mushrooms, offering locally grown gourmet and exotic fresh and dried mushrooms. And better still, everything you needed to grow your very own edible mushrooms at home. (No mind altering `shrooms here folks, sorry.)
Growing edible mushrooms at home has been on my bucket list for years. The wife and I have a friends, Tim and Heather, that live outside of Asheville, NC that hunt, trap, garden, fish, canning, hunt `sang…and go `shrooming. Every picture I see of their finds or efforts makes me jealous. And to top it all of, Tim is constantly posting his cooking on Facebook, so I have to see the end results as well. (That guy must work like a HORSE, cuz he's rather trim, yet eats like a KING!)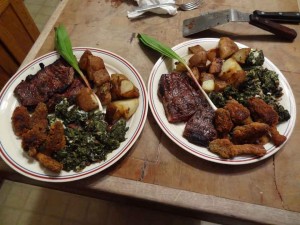 So when I saw the opportunity to grow my own, I was all over it. We purchased a pound of fresh, picked the day before, shitakes, and a "log" that was inoculated with shitake spawn. I call it a "log", but believe it is a mixture of sawdust and other things to promote faster mushroom growth. We were told to soak it for 3-4 hours, until the log  had absorbed water to weigh around 5 pounds total. The we were to place it in a cool, shaded place and mist it 2-4 times a day to prevent it from drying out.
By the time we got it home and before we even soaked it, we had little nubs of mushrooms starting to pop out! I soaked it for several hours, pulled it out, and placed it on a cookie cooling rack to allow plenty of air circulation. I misted it every 4-6 hours, as directed.
And I stuck a camera in front of it to track our first batch. It took a picture every 5 minutes for 50 hours, then compiled them all into a video. Here it is:
I started tasting them about 3 minutes after I stopped taking pictures…and found that mushrooms are like most any other food – fresh, home grown are FAR tastier than anything you can buy. As good as the shitakes were that we bought that day, the fresh ones we grew on our counter were even better. Significantly so, in fact.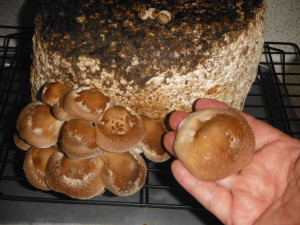 What a marvelous end result to a checking off a Bucket List item. Eating the end results actually is the final stage to a bunch of my Bucket List things, but when the taste is THIS good, I'm very happy.
If you are local, hit the Ft. Pierce green market, or find them at 23shrooms.com. Tell them FloridaHillbilly sent you!
If you aren't local, find someone local or order some online, and give this a try! This really is a no-brainer way to bring in a rather exotic taste and texture to your meals.
Peace,
db
Notes:
The green market, located in Ft. Pierce is every Saturday from 8AM to noon, rain or shine!