Share the post "Everglades Tomatoes Seeds Update – March 2014"
UPDATE April 2014: Due to the high demand and ungratefulness of some, I will no longer be offering free seeds. I spent hours of my own time and took food out of my family's mouth (literally), only to have people bitch and complain about the speed of my free service. No more. I will be offering them for sale in the future, once I catch up with the outstanding requests. Until then, my family will be enjoying the fruits of my labors, not the ungrateful masses that feel entitled. To the folks that truly showed their thanks, I appreciate you, but the few bad apples have spoiled it for the rest.
I have been offering free Everglades tomato seeds for quite a while now. You can read about it here and here.
Back in February, I was interviewed for the Fort Lauderdale Sun Sentinel. The reporter, Doreen Christensen, originally contacted me looking for Everglades tomato seeds, something I've offered for a while if you send me a SASE. After she received the seeds, we spoke briefly via email. It was then that she asked to interview me for an article she was writing about the Everglades tomatoes.
During the interview, she asked if it would be okay to include a link to my articles and if I would continue to offer free seeds for a SASE (self addressed stamped envelope). Even after she reminded me that I would probably get swamped, I thought I would be able to keep up. After all, I did have over 1,000 seeds already saved for future requests….
Silly me.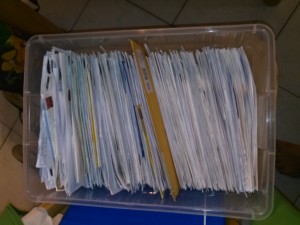 Since the article, I've been SWAMPED. I ran through my stock of seeds in TWO days! But, the plants are continuing to produce nice, juicy tomatoes, and each yields lots of fruit, in clusters of 8…so I WILL catch up. So if you've sent me a SASE already, just be patient…PLEASE.  As I write this, I have roughly 200 or so outstanding requests waiting to be filled….and that is less than half of what has already gone out!
Why all the uproar over a few free tomato seeds?
Everglades tomatoes appear to be a naturalized variant of tomato that has adapted to excessive the heat of Florida's summer.
Based on my personal experiences, Everglades tomatoes are very heat-tolerant. Temps in the 90's with humidity in the 80% range doesn't seem to bother them much. And if properly watered, they seem to actually enjoy the heat. I water my raised beds three times a day, providing plenty of relief to any sun-parched plants, and allows me to grow things all year long, including out hot summers.
Not everything will grow in the summer heat here, but I have learned about enough alternatives to  "normal" vegetables that we always have a full garden. "Always" meaning 12 months a year. The plants I can grow varies from season to season, but I CAN grow things ALL the time! Some things just do better here growing in zone 10a. I've come to realize that many plants considered tropical or subtropical do very well….no surprise since we ARE a sub-tropical climate (yes, its obvious when stated out loud…but I just couldn't comprehend that I live in a "jungle" climate!)
Tropical fruits and veggies aside, I've had many of the same problems growing "normal" garden produce here, mainly due to the lack of understanding on WHY what worked growing up in West Virginia simply does not work here in Florida. Once I started to realize that October through February equated to West Virginia's spring/summer gardening season, and that everything else was simply hotter than I was used to, things started to get easier.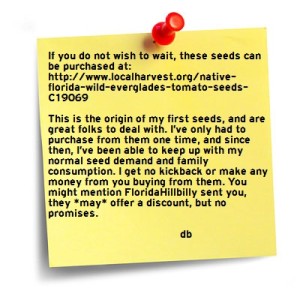 But when I stumbled across a localized strain of tomatoes that had adjusted and gone feral, I wanted to know more about it. I did loads of research, and eventually ran across a supplier for some plants. They grew very well. And produced non-stop through the summer heat. The "cooler" months had tomato production slowing, but still the plants just kept on producing. It took a massive summer windstorm to eventually kill the plants I had, after having produced tomatoes for about 18 months.
Yes, tomato plants that grew non-stop for 18 months.
After losing most of my garden to the storm, I decided it was a good time to back up and regroup, so I stripped all the plants out of my raised beds to start fresh. It was obvious that I was going to need to dedicate one of the beds to just Everglades tomatoes, since they grew like kudzu, taking over all available space.
In clearing out my raised beds, I ended up with a massive pile of tomato plants, tomato leaves, and of course, tomatoes in all stages of ripeness. After moving all of the debris, it seems I missed several tomatoes – I now have volunteer tomato plants sprouting up all across the yard, neatly outlining the path I took to the compost pile!
So while the interview and newspaper article came out at the absolute lowest production time for tomatoes, the weather has improved, and the tomatoes are starting to come to ramp up production. At the current rate, I should have most requests filled in a few weeks.
My current process is to press the seeds out onto a non-stick sheet, then let them dry out. Each batch takes between 5-10 days to dry out. Dried this way will not keep them viable as long as fermenting them before drying can, but I expect each seed I send out to be planted within a month or so of their arrival.
After the seeds have dried, I open a seed request, taking out the SASE and setting it aside. I read any notes that might be enclosed, and sometime write out a reply. I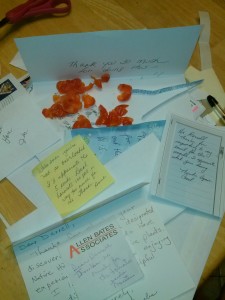 then cut and fold the outside envelope into a smaller package, put 5-10 seeds into the newly fabricated package, and place it into the SASE. 
Then comes the worst or best part – sealing the envelope. Ever lick 50 envelopes in a row? Talk about a nasty taste. That is the worst part. However, some folks send the self-sealing envelopes, and those folks get a special thank you
Keep in mind I am stripping seeds out of tomatoes normally earmarked for my family to consume. So even if I have enough seeds to get your order out a few weeks earlier, are you REALLY going to complain if I keep a few tomatoes for my family? After all, in exchange for these seeds, I am only asking for a self addressed, stamped envelope. Not to be snippy, but how fast would YOU fill orders?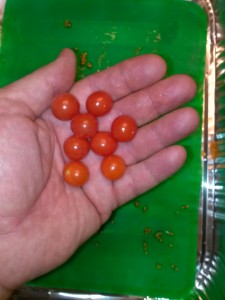 So again, please be patient…and know that I will soon be discontinuing the "free seeds for a SASE" program. I will probably start asking for something to offset my time and efforts.
However, it isn't just the time spent that has me changing my offer, it is simply not worth missing out on eating these tasty little things myself!
Peace,
db
As always, please "like" FloridaHillbilly on Facebook, subscribe to my feed,  follow me on Twitter, add it to Google+, Pinterest, Linkdn, Digg, and/or tell your friends! The more folks that start behaving like ants, the fewer grasshoppers there will be left needing help.
Need something from Amazon (and who doesn't)? I earn a small commission from purchases made when you begin your Amazon shopping experience here. You still get great Amazon service and your price is the same, no matter what. And for the record, all of my Amazon links provide me with this referral fee.