Share the post "Everglades Tomatoes – The Final Free Shipment"
The Free Everglades seeds offer is now over.
As I write this, there is a mailbox in front of my house that is jammed full of outgoing mail, every one of them with enough Everglades tomato seeds to kick start a tomato seed business. (So if you haven't received your seeds by June 20th, contact me!) As Ron (my mailman, you DO know your mailman's name, don't you?) picks them up, he takes away an unexpected burden that has been haunting me for almost six months.
SIX! Holy smokes! However, as much of a pain as it has been, I've learned a few lessons. (Lemons = lemonade!) Now that it is over, I'll share my findings.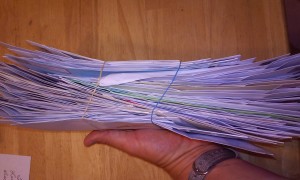 Lessons Learned:
Negatives
When I offered to open the free seeds, I never expected more than a couple dozen requests. I received over 1,000!
I had a stockpile of around 1,00 seeds. I was initially sending out 10-15 seeds per package…then quickly ran out.
Being tomatoes that love the heat, production was at its lowest in February when the article came out, so I couldn't get more seeds in a timely manner.
Ron (my mailman, remember?) stated that I might need to speak with the Post Office about picking up my box of mail if I keep getting this volume of mail, or at least get a bigger mailbox.
There is an old axiom –
"You can have it fast, cheap, and done right. Pick two"
These were the right seeds, no questions. These were free, doesn't get much cheaper! Therefore, it was going to take some time. Some folks, far too many for my efforts, decided they wanted all three, and were indignant at best, and downright nasty in some cases. This on its own has ruined the free offer seeds.
I requested folks subscribe to my website as part of this offer. Costs nothing, you get an email every time I publish an article, and if you don't like it, don't read it. Well there were more than a few folks that subscribed, I'd eventually send out their seeds, and a week later, they would unsubscribe. In retrospect, I shouldn't be upset. Bribery is not the way to generate organic, long term traffic. I don't blame those folks, but it hurt my widdle feewings.
Positives
Some folks went money! I didn't expect it, but was very happy and touched when I'd open an envelope and find a dollar bill. In the end, it was these folks that were my saviors, as I ended up using the possibility of finding more cash as incentives to my daughters to fill the envelopes. (Stay tuned, my ten year old has shown an interest in continuing the seed business…for a small fee)
More than half sent some form of message. Some were fantastic! Most were heartfelt and touching. A few were blunt – "I want free seeds", no signature. Even those showed they put forth some effort, so I laughed at them and moved on.
Some have become a regular correspondence, expanding my circle of friends.
Above all else, THAT is the reason I operate this website, not for the $50 or so a month I make from advertising. I am skilled enough to go out empty handed in just about any spot in this country and make $50 in a day. I know how to hustle (the good kind) and have a double fistful of skills, so money is not the driving force. Community is why I do this. I WANT to help you to learn to be more self-reliant.
Every person that I move towards being responsible for themselves makes my world a better place, and improves their lives through self confidence and personal freedom. As fast as we are losing both of those, I'm holding back the tide, just a wee little bit. If enough pick up the task and start pushing back, we may just recapture what this country once was.
Here is to hoping we aren't too late…
Peace,
db
As always, please "like" FloridaHillbilly on Facebook, subscribe to my feed,  follow me on Twitter, add it to Google+, Pinterest, Linkdn, Digg, and/or tell your friends! The more folks that start behaving like ants, the fewer grasshoppers there will be left needing help.
Need something from Amazon (and who doesn't)? I earn a small commission from purchases made when you begin your Amazon shopping experience here. You still get great Amazon service and your price is the same, no matter what. And for the record, all of my Amazon links provide me with this referral fee.