Share the post "Green Sweet Potatoes??"
Today's article was brought to you by the generous folks over at Hides.com. Go check out their great line of "Multifunction Eyewear Necessities", and tell them FloridaHillbilly sent you!
From time to time, I use my limited social connections to try to resolve an issue. This is going to be another one of those times, because I simply cannot find something. I am asking my readers for a little assistance on both a source as well as information on an elusive strain of sweet potato.
I first heard of these several months ago in passing, from RidgeRunner. He has a work associate, Hank, that will speak for hours on the joys of various varieties of sweet potatoes. The topic is also one of my favorites, though I am far from an expert on varieties. My interests fall more under the heading of "ways to eat them, no matter the variety". I recently had the opportunity to meet and speak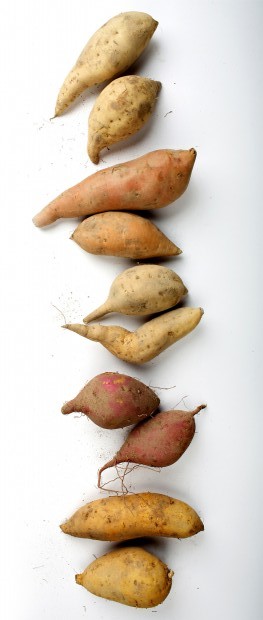 with Hank, so of course, one of the subjects I brought up was sweet potatoes.
Sweetness, productivity, and flavor were all talked about. However, the most interesting sweet potato topic was regarding a variety that turned a shade of green when cooked. This is where I need help…
Hank told me he understood that it was a variety called "Hayman", and originated on the Eastern Shore of Virginia. It is a poor producer, but has a remarkably sweet flavor, sweeter than anything else Hank had tasted before or since in a sweet potato.
So, my question to you is this, have any of you ever heard of a "green" sweet potato? Have you ever grown them?? And if so, how can I get my hands on some?
Let me know, please…
Peace,
db
As always, please "like" FloridaHillbilly on Facebook, subscribe to my feed,  follow me on Twitter, add it to Google+, Pinterest, Linkdn, Digg, and/or tell your friends! The more folks that start behaving like ants, the fewer grasshoppers there will be left needing help.
Need something from Amazon (and who doesn't)? I earn a small commission from purchases made when you begin your Amazon shopping experience here. You still get great Amazon service and your price is the same, no matter what.