With the current news, I thought it would be a timely topic to write about guns vs. butter.
From Wikipedia:

In macroeconomics, the guns versus butter model is an example of a simple production possibility frontier. It demonstrates the relationship between a nation's investment in defense and civilian goods. In this example, a nation has to choose between two options when spending its finite resources. It can buy either guns (invest in defense/military) or butter (invest in production of goods), or a combination of both. This can be seen as an analogy for choices between defense and civilian spending in more complex economies.
On a personal level, I believe it represents investment in short term consumables (butter, going to the movies, cars) versus long term investments that improve one's standings (firearms, gold, or even simply a shovel). The cost of each is assumed to be the same. The "butter" can only be used once, the "guns" may not see regular use, or possibly none at all, but if used, can be used repeatedly and therefore continually improve your position. (This is MY view and definition, don't forget.)
Looking around right now, it seems as though the butter market has gone bust, and EVERYONE is buying actual guns….
So I thought I'd show you how to make your own butter.
Butter is simply the fat from milk. It milk's natural state, the butter is held in globules with protective coatings to prevent them from clumping together. By agitating the globules until the protective coatings rupture, we can then get the butter fat to clump up, separating from the water in the milk.
I know this is an oversimplified description, don't pick nits. Take cream, shake it, it turns to butter and buttermilk.)
How I did it at home without the convenience (or hassle) of owning a milking cow/goat/sheep/llama/buffalo/yak? I bought heavy whipping cream at the grocery store.
List of items needed:
Heavy whipping cream. Organic is better, of course. You may also be able to purchase some from a local farmer, assuming you are buying the raw milk and cream for pet consumption, since raw cow's milk is vile, nasty poisonous stuff outlawed by the FDA. (Although those same folks said Twinkies were OK to sell)
Also, you'll need a jar with a tight fitting lid, and optionally, some salt.
The process is simple to set up, but tiresome to execute:
Pour the heavy cream into a jar, being sure to leave an inch or two of head space. I usually pour a pint of heavy cream into a quart jar.
Optionally, add salt. I use about a 1/2 teaspoon for a pink of cream. You can adjust this to taste if needed at the end.
Shake.
Shake some more.
Shake it more than that.
Goto Step #2
When your arms have fallen off, have someone else shake the jar a bit more. The cream will go from "whipped", much like you would use on a dessert, to an almost solid, grainy mass. At this point it will start to break up into lumps of …butter! Continue to shake until you have a large lump of butter in a thin milky solution.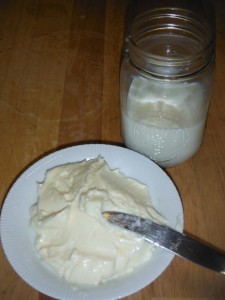 Pour off the liquid, then stir the butter for a few minutes. This will extract more liquid, and make the butter smooth. Pour off any remaining liquid, and taste. Adjust he salt content if needed, being sure to stir it adequately.
You just made butter…AND buttermilk! Go make some cornbread with the buttermilk, and top it with your homemade butter!
You can thank me later!
Watch the process here:
And for the record, you should be buying guns now, literally and figuratively. Plan for your future…so you'll have one.
Peace,
db