Share the post "How My Day Went – Kayak Fishing"
Today's article is brought to you by JM Bullion! If you are looking to get started investing in precious metals, or add some more to your portfolio, give the folks over at JM Bullion a shout.
I spent the day on the water with my friend, Zach.
Zach is 15, and owns an Ocean Kayak Trident 13 Angler kayak. A very nice ride, and one I helped him acquire (read about him getting it here)
My kayak is an Ocean Kayak Prowler 13 Angler, the older brother of the OK Trident series. I am very happy with it, and have modified it to use a trolling motor. Not having to rely solely on paddling for getting around makes me like it even more….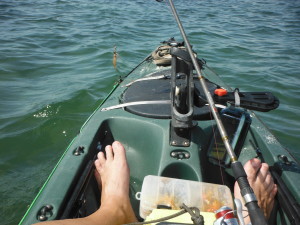 Here I am heading out this morning. Imagine that,
another picture of my feet
!
About 10 minutes after we launched, SB called me, telling me he was anchored up, spending his morning on the water, after having went a long weekend traveling and boat camping. Incidentally, this was the maiden voyage for SB and his family.
Upon realizing how close Zach and I were to his location, he invited us over to hang out. So much for fishing!
We paddled over (well, Zach did, I used my motor), to tie off to their boat.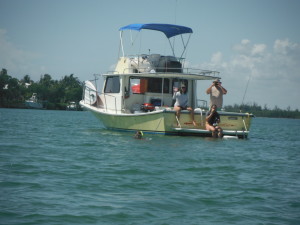 Here is how we found them, lounging around at 10am, swimming, listening to the radio, and enjoying life.
Did I mention it was Monday?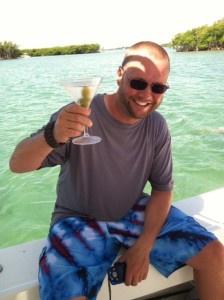 For the record, SB is a bad influence. He has a knack for getting me into trouble. He had been living on his boat for several days, traveling, living a freestyle, nomadic, Jimmy Buffet kind of life. At 10am, he offered me a dirty martini, and even had the gall to be carrying a bit of my olive juice recipe with him. How could I say no? And yes, they actually had martini glasses on board!
I think this was all planned…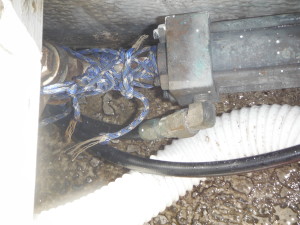 As we caught up on SBs misadventures, he told me about the steering failing on his boat. He went on to say that his older daughter had some paracord with her (I taught her that!) and he was able to patch together his steering linkage with it. They traveled 60 miles with this repair.
NEVER underestimate the power of the Paracord!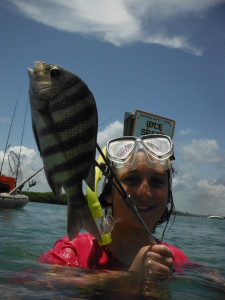 While we were laughing and having a good time relaxing on the water, SB's daughters were having a good time IN the water. The youngest daughter speared a sheepshead, so SB broke out his new Cutco Fisherman's Solution he had finally acquired.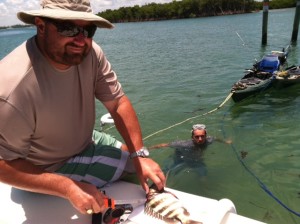 From the water to the grill to our bellies was less than 10 minutes. This had to be the freshest fish I'd ever eaten.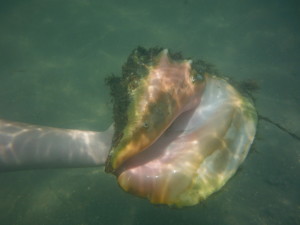 The girls then headed off to see what else they could bring back as food. First they tried more spearfishing, and came up with a two conchs. A great score, if this were the end of the world…Conchs are tough, but tasty eating… and protected here in Florida. A couple pics, and then they were put back where they were found.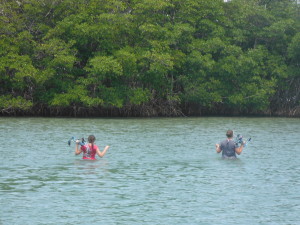 Then they grabbed their compound bows, and headed off to try some bowfishing.
They didn't find anything, but if they had, we would have eaten it too.
These girls can SHOOT!
After a couple of hours of hanging with SB and family, Zach and I decided we should probably get some fishing in. We headed further west across the flats towards a point on and island that was studded with downed trees located at a drop off. This allegedly was the Super Ultra Secret catching spot (not fishing) that SB goes to to put food on the table.
The combination of downed trees on a drop off with a swift current running past it does sound like a fantastic spot for snapper and sheepshead. However, either Zach and I didn't find the correct spot, or SB lied. We caught a few short snapper, but not a lot, and nothing of legal size.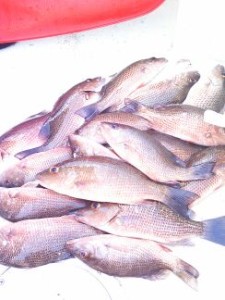 However, since SB grew up here, and knows the water very well (except for two or three elusive sand bars), I have to believe it was us not him. Plus he sent me this pic last week after going there.
I guess I still need to learn more about fishing here.
When we decided to call it a day, we went with the tide, and headed towards 
Park, one of the larger, busier local boat ramps. Luckily, it was Monday, and there was very little traffic. As we pulled up on the beach near the ramp and started carrying things to the parking lot as we waited for our pick up, I saw this sign (click to enlarge).
Lovely. There always has to be someone pooping on my great days!
Peace,
db
As always, please "like" FloridaHillbilly on Facebook, subscribe to my feed,  follow me on Twitter, add it to Google+, Pinterest, Linkdn, Digg, and/or tell your friends! The more folks that start behaving like ants, the fewer grasshoppers there will be left needing help.
Need something from Amazon (and who doesn't)? I earn a small commission from purchases made when you begin your Amazon shopping experience here. You still get great Amazon service and your price is the same, no matter what.