Share the post "Our Kitchen Knives (And a Request for Help)"
Today's article was brought to you by the fine folks over at Reef-Hunter.com. Go check out their great line of custom apparel, and tell them FloridaHillbilly sent you! (click to open a new page)
I was recently the recipient of a pile of beef as payment for an alleged favor. While I don't believe I was owed anything in this particular case, I was very happy to have more meat. And not to complain (much), but it was in large primal cuts, so it all needed to be broken down into manageable serving sizes.
(Folks, if you do ANY cooking at home, and eat meat, I cannot stress the value in buying bulk meat and processing it yourself. If I can manage to get decent end results, YOU can get decent end results.)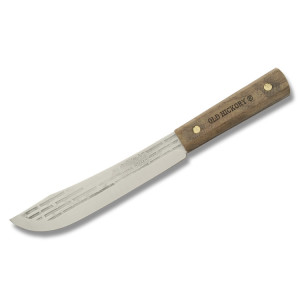 To take a large chunk of meat and turn it into a smaller portion, you will need a knife. (Click here to find out how to sharpen your knife the same way I do it, with very good results and only a minute or so of effort.) I am partial to carbon knives, since I feel they are easier to sharpen, and hold an edge better. They are also what I grew up using and will continue to do so.My go-to knife for this type of work is the Old Hickory butcher knife, and it runs about $10.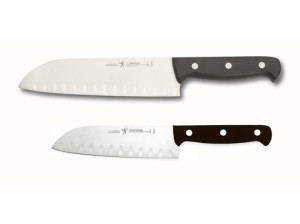 My wife likes stainless, so we have both, of course.Her go-to is one of her two piece J.A. Henckels Santoku Set, German stainless steel blades in a Japanese design. She swears her knives are FAR superior to my old rusty blades that are "going to give us lockjaw". She still doesn't understand the difference between "rust" and "patina".
Just be sure that it is from a quality maker. Chinese made blades tend to not be great ones, so avoid them. I prefer German, Swedish, and good old American steel. (Strange but true, Ontario Knife Company is actually located in New York, and has been making blades since 1889.)
From time to time, I use a fillet knife for working up my meats, particularly rabbit. I find the finer blade makes the work easier.
My blade of choice for this is the Berkley 7-Inch Soft Grip Knife. Berkley is not known for their knives, however, this one is actually fairly decent, even though it goes against my advice above- it is made in China. But for about $8, it is hard to beat. I really appreciate the soft grip contoured handle for working with slippery meat and fish. And it holds an edge fairly well.
So there are the main knives we use in the kitchen on a daily basis. We have about 20 total, not counting steak knives. Many of the knives in our kitchen are hand made blades, made by myself, my father, or good old BlueTang. BlueTang refers to his knives as "working knives", but the man is a fool to consider suck works of art to be just "working" knives.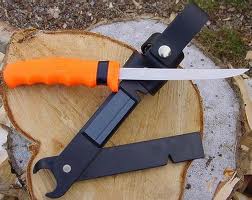 Now I have a favor to ask. I am looking for a particular knife for a friend. He has been raving about this thing for almost as long as I've known him, and I would like to use my social pull here to try to find one reasonably priced. Used is fine, preferred, in fact. And even better, he is a regular reader and contributor here.
My buddy, SB is looking for a Cutco Fisherman's Solution fillet knife in orange. They can be purchased new for around $80-100, but he wants a used one. Price limit is $70 for one in good condition. It MUST be the orange handle (for some reason). If you or someone you know has one they are willing to part with, please contact me at db at floridahillbilly.com. SB has been a good friend and supporter of FloridaHillbilly.com, I want to try to return the favor is I can.
To sweeten the deal, I am willing to trade (even) a Gerber Mark II Combat/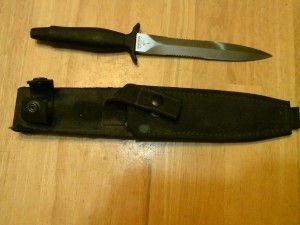 Survival knife, serial number D2795S, making it a 1985 production blade, one of 6,818 made that year. Particular notes about this blade:
Cordura® sheaths introduced as standard around S/N D2318S. Both leather Flat tip and Cordura sheaths can be found between S/Ns D2318S and E0906S.           
Blades electroetched with Mark II™ on the logo side of the blade became standard around S/N D2349S.
This makes it part of the first 500 of the new style in 1987.
That is all.
Peace,
db
As always, please "like" FloridaHillbilly on Facebook, subscribe to my feed,  follow me on Twitter, add it to Google+, Pinterest, Linkdn, Digg, and/or tell your friends! The more folks that start behaving like ants, the fewer grasshoppers there will be left needing help.
Need something from Amazon (and who doesn't)? I earn a small commission from purchases made when you begin your Amazon shopping experience here. You still get great Amazon service and your price is the same, no matter what.