Writing yesterday's article, and reading all of the comments, our household was inspired to put our lovely basil to good use for dinner tonight. In particular, I received quite a few comments regarding the Mammoth variety of my basil. So today, I'll be expanding a bit on what to do with your basil once you have it  growing, specifically the mammoth variety, though much of this can be applied to other varieties.
My mammoth basil seeds were heirloom seeds that I picked up at Lowes. I wanted heirlooms so I could eventually get my own seeds. I planted them my first year with my raised beds, and every year, it eventually goes to seed, and reseeds itself. I always forget to collects the seeds, unfortunately. Maybe this year…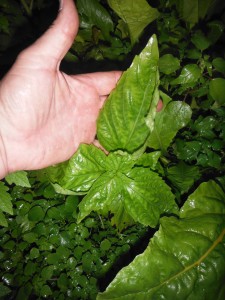 Here is a picture that I took just before writing this, taken in my garden. This is a volunteer from TWO springs ago(!), I let it go to seed and have some come back each time I clear the bed and replant the bed. I don't mind, as we use it up for all kinds of tasty dishes.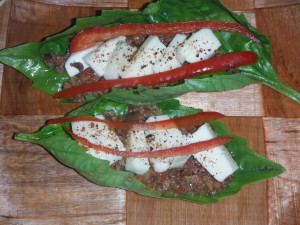 Like using it as a wrap for olive spread (from a local producer, Kat's Southern Twang) along with some mozzarella, sliced red peppers, and a dash of my own blend of dried pepper flakes. Tastilicious! Be aware that using basil as a wrap, you'll want robust flavors, otherwise you'll probably only taste basil, not a bad thing, just can be a waste of a more subtly flavored ingredient. Luckily, with mammoth basil, the flavor is slightly subdued when compared to the smaller, sweet basil.
Other options for basil as a wrap would be to use it for an Asian wrap, Caprese salad (tomato, balsamic, and mozzarella), or for a taco shell. Your imagination (and palate) are your only limitation.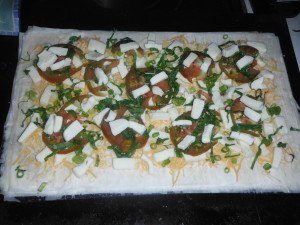 This is phyllo Pizza with heirloom tomatoes, mozzarella, green onion, garlic powder, and basil. My wife, Liz, made this for herself and the kids. Not a very Paleo meal, so I made a frittata. (Did you know that frittatas should be served at room temperature?)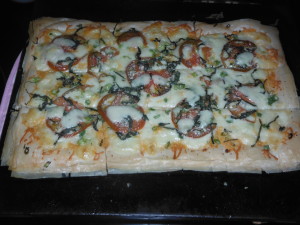 The phyllo pizza turned out SO well, I had to fall off the Paleo wagon for a bit and try a bite. It was mighty tasty, the fluffy crust may even beat a deep dish crust!
So there are a few ideas for your basil. Be happy in the knowledge that you've leveraged a small bit of time and effort into a small portion of your food. Keep following that trend, and eventually, you'll not be so worried if the stores close, you lose your job, or the zombies start roving about.
You DID plant some already, right?
Peace,
db
PS. Here are the wraps I made with a stick of butter for size reference:
Do You Ever Buy on Amazon?
Please remember to click through FloridaHillbilly.com every time you visit Amazon.
You'll get the very same prices, plus a portion of what you spend will support this site. Thank you!