Share the post "My take on "Rabbit starvation""
Stumbling around, I came across a very nice website called The Wannabe Homesteader, and found some great info about starting tomatoes. The next day's post was about rabbits, specifically, Why Rabbit Meat is Not The Best Survival Food. The author raised the question,
"..should a person include rabbit meat as a back-up plan for survival situations? "
The blog author, Stephanie goes on to state that due to the possibility of rabbit starvation, they wouldn't, preferring to raise chickens instead  …And not to be antagonistic (I NOT trying to upset anyone thinking about raising their own food)…but I couldn't leave it alone.
Rabbit starvation is a real disorder. But it requires a certain set of circumstances that, as a homesteader raising domestic rabbits, you just cannot duplicate without effort.
First, you must subsist on nothing BUT rabbits….nothing else. This is unlikely in any but a wilderness survival situation.
Second, you must be in "starvation mode". Your body must have burnt off most of your fat reserves before this starts to become an issue. The typical American has quite a bit of fat stores, myself included.
Finally, the rabbits being consumed must also be in a similar state of starvation, barely subsisting. The rabbit will also have burnt all fat stores, causing the body to start to burn lean muscle in order to continue.
This collection of circumstances isn't unusual………in a snowy climate in the dead of a harsh winter.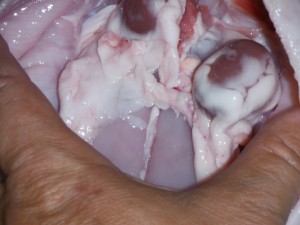 Rabbit starvation is can also be combated by simply eating the brains, liver, and kidneys – an excellent source of fats required by the body. And this is assuming the rabbits you are eating have ZERO fat on them. I never saw a zero fat rabbit when I hunted them as a kid in WV.
As to domestic rabbits, I've raised rabbits for years, and have NEVER harvested one of my rabbits and not ended up having to trim off fat. Domestic rabbit is NOT a wild creature. Domestic rabbit doesn't have to move to find food, or run from enemies. They eat, sleep, grow, and get harvested. Plenty of time and lack of exercise to develop a nice layer of fat, particularly around the kidneys. (BTW, the best lard comes from the kidney fat of pigs – YUM!)
As to the rabbit vs chickens argument:
With chickens you have the eggs, meat, liver, bones, and feet (for a nutrition-packed broth) all at your fingertips!

Meanwhile with rabbits, you get dangerously-lean meat and the livers.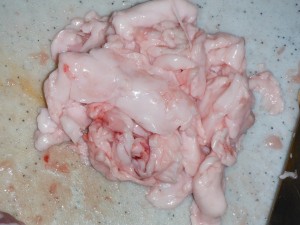 I've refuted the "dangerously lean meat" part already. In addition to the livers, we also eat the kidneys and brains. This increased the fat intake. We also take whatever fat we get (see picture) from each carcass and add it to the organ meats along with whatever meat trimmings we have left over after quartering, grind it all together, add spices, and call it "breakfast sausage", or as my 9 year old daughter says it, "Liver sausage -my favorite!".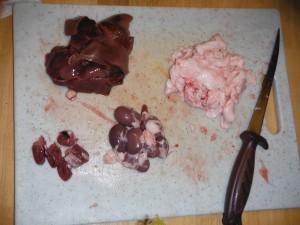 My biggest issue of chickens vs rabbits is time. Let me elaborate by creating a virtual backyard with a theoretical collection of animals.
Lets start our theoretical homestead with a meat rabbit trio (a buck and two does), along with a 6 bird chicken flock (a rooster and 5 hens). All of them are 6 months old, just reaching maturity. We need the buck and rooster to allow for breeding to produce meat.
Depending on the breed, a chicken lays about 5 eggs per week average, more in the summer, less in the winter based on the amount of daylight hours per day. Egg laying breeds are rarely broody, thus requiring an incubator. Incubation is 21 days. A chicken from a day old chick, takes 4-6 months to start laying eggs, or about 4-5 months to harvest weight. So from the day the egg is laid, you have a minimum of 15 weeks until the optimum size to harvest for meat, and about the same for egg production.
For rabbits, breeding stimulates the female rabbit to ovulate so that she is constantly ready to mate, no need to wait. In fact they can be re-bred the same day they have a litter. (I don't recommend it, it will wear a doe out pretty fast if you do it too often. A two to four week break is far easier on a breeding doe, in my opinion.) Gestation is 28-31 days. Harvest weight can be achieved in as little as 7 weeks from birth. This gives a yield in as little as 11 weeks.
If you put eggs in an incubator the same day you bred your rabbits, you would be harvesting rabbit a month before you could harvest the chickens, or expect to start getting eggs.
(On a side note, if you are set on getting eggs, try coturnix quail. Incubation is 17 days, harvest size is achieved in 7 weeks, and egg production starts about the same time. Also, they have a better ratio of feed-to-egg weight than chickens. They also take up FAR less room – a rabbit cage can house as many as 25 birds! And their eggs taste like….eggs! And their males make very little noise, and the neighbors will never know what that noise actually was.)
The other issue I have is the rooster, that sucker is gonna crow, I promise you. I've never heard a rabbit make any noise that a neighbor would hear. I like to keep a low profile in my neighborhood. (This blog doesn't count :P)
Don't let the myth of rabbit starvation keep you from raising them. If your rabbits are so lean that you are suffering from this malady, you aren't feeding them enough. Assuming you are using nothing but natural forage to feed, if you don't have enough to feed rabbits, odds are you won't have enough to feed chickens either. Personally, I free range my chickens and supplement with later pellets and some grain. For my rabbits, they too are on pellets, with additional hay and forage from my yard and surrounding areas.
If you have room enough for chickens, you probably have room enough for both rabbits and chickens. Build your coop with the chickens below and hang the rabbit cages over the coop. The chickens will keep the rabbit pellets turned, making the manure even better for your garden. Personally, I raise both on my quarter acre town lot. I also have a pen of quail, and run ducks in with my chickens.
And if your rabbits ARE a bit lean…cook `em in lard!
In truth, simply adding a bit of oil of some sort is all you need, our diets are chock full of fats to offset a little lean meat. We will probably never see rabbit starvation in Florida, particularly if we are eating well cared for domesticated rabbits.
Rabbit should be a part of every self-sufficent family's setup. I emphasize "part" since I think we should have chickens. And ducks. And quail. And goats and pigs and..and..and… Variety in our diets is a healthy thing. And in the event of some sort of system failure in the rabbitry, or hen house (illness DOES happen), you will have an alternate source for protein.
Peace,
db