Share the post "Product Review: Ozark Trail Camp Cot"
My good friend SB refuses to camp, mostly due to his belief that sleeping on the sucks. To be honest, I mostly agree, it DOES suck to sleep on the ground….so I don't anymore.
There are several alternatives available: foam pads, air mattresses, sling chairs, hammocks, and cots.
Foam pads are just a smidge beyond sleeping on the ground, and really shouldn't count as an improvement.
Air mattresses all leak eventually, and guess where you end up sleeping? Yup, on the ground.
Sling chairs offer decent opportunities for falling sleep in front of the fire, but if you sleep on you stomach or your side, really aren't comfortable for long. At my last camp out with a class at Green Earth Survival School, I ended up sleeping in a Caravan Canopy Zero Gravity Chair, and found it to be great…until I tried sleeping on my side. I'd sleep in it again, but not for more than an extended nap.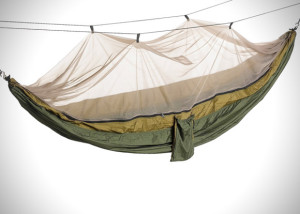 Hammocks
are a HUGE improvement, and my preferred method of sleeping when camping. In fact, my
Skeeter Beater Pro
from
Grand Trunk
(a future review) not only allows me to sleep in it, but has enough space and strength (an incredible load capacity of 400 lbs!) to allow my wife to sleep with me as well (it can get a bit cramped, but IS fun). However, most state parks won't allow you to use trees to hang a hammock, even though using a web strap for typing off does virtually zero harm to the trees. There is also the issue of where to put the kids.
This leaves cots. Good enough for the military, its good enough for me, right? Well, sort of. I'll probably never sleep in one at home. With a decent pad, they aren't horrible, and I can sleep on my stomach or my side, if I chose to do so. I've even seen some with an inflatable mattress on them, not that I'd trust it (see air mattresses above).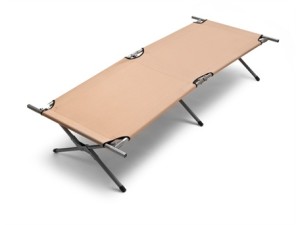 Living on a budget means that sometimes you have to cut corners, and buying a cot from ChinaMart (you know what I mean) seemed to be one of those. I had read reviews on the entry level Ozark Trail Camp Cot, and found mixed reviews. Most of the negatives seemed to stem from either bad backs to begin with, or folks that are unable to set up the cot correctly. Considering myself a mechanical whiz, I thought I'd try one out, figuring it should be within my capable hands to set up.
I was a little confused when I first set the thing up. I had no problems. Zero. Laying on it, I found the surface to be just firm enough that I'd not have a hard time turning over, yet it wasn't like sleeping on the ground. As soon as I had one home to try, the wife and I agreed to get a second one for our next camping trip.
One night into the trip, we were sold. After the second night, so were several other families, who soon bought some for themselves. Camping was no longer a series of sleepless nights around a campfire. Camping became fun again. A good thing.
=============================================================
Ozark Trail Camp Cot
Details:
Powder coated Steel frame
75″ L x 27″ W x 13.5″ H
225-lb. weight capacity, though some literature states 300lbs.
I'd suggest a yoga mat or sleeping pad under it if you aren't in a sleeping bag. The polyester fabric seems very sturdy, but pretty unforgiving on your skin, almost abrasive. Almost. Not enough to stop me from using it, just a point you should be aware of.
Price:
I believe we paid $39.99-ish each. As of this writing, it is listed on WalMart's site at $49.97. Price is comparable with a decent air mattress.
Here is my teenage daughter assembling it:
Straightforward, simple, and affective. If you have trouble sleeping while camping, I'd suggest trying out a cot. Personally, I get a far better night's sleep with them. That's worth it in my book. I've always found it hard to argue with positive results.
BTW, SB still won't spend the night. Fine by me, that just leaves more bacon coffee for me.
Peace,
db