Share the post "Raising Rabbits – Saving "Dead" or "Frozen" Kits"
I had two litters of rabbits born late last week. One mother, Nona, was a new doe to my breeding program, and this was her first litter. It's not unusual for first time does to have difficulties, get everything wrong, and possibly loose entire litters.
This looked to be one of those times.
To set the stage, let me preface this with the fact that while it IS winter here, our days are in the low 70's and nights in the 60′. These are the typical temperatures, and usually nothing to worry about for rabbits. However, the night Nona kindled, we had a cold front hit us that drove the overnight temps down into the low 30's with a chance of frost. Yes, its horrible to be threatened with a CHANCE of frost. If this wasn't such a flat state, I'm sure some of the locals would have gone running for the hills in terror. But to us, its very uncommon….and scares us. I think it has something to do with nobody owning a window scraper for their car.
On top of the unusual cold weather, Nona built her first nest on the wire, using the hay I put in her cage for the next box provided. So not only did she not build a proper nest in a sheltered spot, but two days early leaving me no time to adjust her next location, she delivered her first litter in the pile of hay on the wire.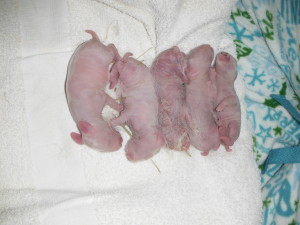 So Saturday morning, we woke to six newborn babies that were cold and lifeless.  Typically, I just dispose of the cold bodies in the vacant lot behind us, burying them without ceremony. Its a very sad, sobering moment when ever I lose one. The waste of such an innocent life makes me strive to learn all I can on how to prevent this from happening again.
As I pulled pitiful little kits from the nest, I recalled something I'd read about saving cold kits from exposure. I ran into the house, and hollered for my everyone to to give me a hand, we had baby rabbits born outside the nest box, they were cold and lifeless, and I wanted to try to save them.
I have moments of pride with my kids, as most parents do. However, my proudest moments aren't home runs, Honor Society inductions, or playing the lead in a play. My proudest moments are when my kids step up and deal with adversity head on. Both girls jumped up and started to work together to try to save the babies.
Grabbing a couple towels, we wrapped them up to start slowly warming them up. From what I'd read, much like bears hibernating, rabbits seem to have the ability to go into a form of suspended animation when their body temps dropped too low. I was hoping this was the case.
Grabbing several Hotsnapz, I activated them and slid them under the towel, and also placed one on top, being sure not to crush the kits. Hotsnapz are reusable hand warmers that get to around 125 degrees and last for roughly 45 minutes. I was hoping these would bring up the body temps and prove my hibernation theory correct.
Each girl took turns warming their hands, then holding each of the kits, trying to get some sign of life out of them. Closer observation showed, without a doubt, that a couple of them were gone. The others four, we were not so sure about, so we worked with them, trying to get some sign.
Two of them eventually responded, one being the largest, and oddly enough the other being the runt. As we tried to bring them both back, for whatever reason, the runt eventually just stop responding, and we lost it too. The wife, who was working with him, was trying everything she could think of to warm him up and save him, but after about fifteen minutes, the runt stopped responding, and the little guy died in her hands.
Once I was sure the sole survivor was warm enough, I marked his head with a Sharpie, and placed him with the other litter, all half siblings of his anyway, since they all have a common father.  Before placing him in the next box, I dabbed a bit of pure vanilla extract onto the surrogate doe's nose. I'm told this masks the scent of the strange kit, allowing it time to take on the smell of its new litter mates. It's now been almost two days, and the survivor seems to have been completely accepted. He was warm and had a full belly the last time I checked on him.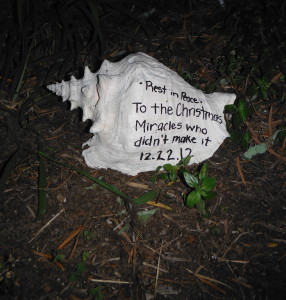 My thirteen year old buried the other five, and marked their grave.
The loss doesn't set me back much, since I try to have two does pregnant at the same time. This allows me to do things like I just did, and foster kits with another mother. If a doe would happen to die during delivery, I'd be able to move the orphans over to the other doe, and not lose everything. I did lose about 30 days though, but I've already re-bred the young mother, along with another doe, so should have more babies due in about four weeks.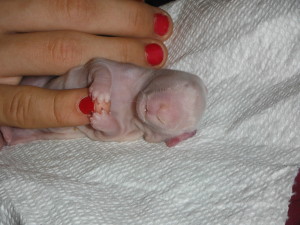 After about an hour of working with the kits, the wife and kids we actually very happy that they had been able to save at least one. I was impressed that they didn't dwell on the loss of the other five, but celebrated the one life they had saved. I can think of no better Christmas gift for me than to see my family working hard against difficult odds, then celebrating a minor success in the face of an overwhelming loss.
Peace,
db