Today's article was brought to you by the generous folks over at Hides.com. Go check out their great line of "Multifunction Eyewear Necessities", and tell them FloridaHillbilly sent you!
Not much of a topic for most homesteaders here, but this is a slice of technology that may allow you to save some money…..that you can them spend on starting to raise your own rabbits or quail.
For those that don't know, we have not had a TV plugged into a subscriber service (cable, satellite, or any other option with a monthly bill) in over 6 years. We dropped it one Christmas day to see how it affected our lives, and we found we got much of our time back for more useful things.
But now that the kids are getting older, we've found they really want the down-time entertainment. But I didn't want the monthly cost, or the excess zombie-time sitting in front of the propaganda programmer (TV).
Our compromise? Streaming video.
Since we have high speed internet, and have watched various things already while sitting at the computer, it was an easy leap to start pushing the video to the TV via various methods. We've used over a half dozen hardware boxes, and the only one worth mentioning has been Roku.
And while the Roku has been the best option to date, it fails on several levels. It doesn't do very well with any digital movies we have stored locally, such as DVDs, it is slow and sluggish at times, and it doesn't support all of the website that we can watch a show on. Without the last one, there are times when we have to gather around a PC to watch a movie or TV show, or string cables to connect the TV to the PC.
Technology is better than that, in my opinion.
So when Google offered a streaming HDMI device that would take whatever was being seen on your PCs web browser and broadcast it via a wireless connection, I saw the light at the end of the tunnel. As being priced at $35.00, it is almost one third the cost of the Roku box we initially purchased, and about half of their least expensive model. Price does have some say in this!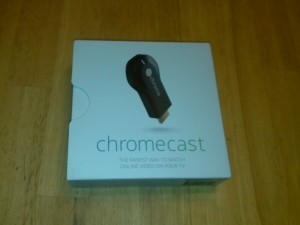 Google's
Chromecast
is an HDMI dongle (sticks out of the back of your TV in an HDMI port). It looks like a USB thumb drive with and odd plug.
And works like a CHAMP!
Out of the box it looked too small and simple to work, but work it does. Setup is rather simple and straightforward, simple plug it in, and using your PC or a smartphone, connect wirelessly to it and establish whatever setting you require for your home network.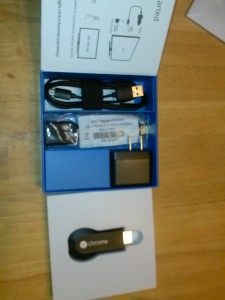 Yes, I said connect to it from your phone. You see, it doesn't have a remote. Your PC or phone acts as the remote. So you now have a reason to lose your phone between the couch cushions. Not sure if you could manage that with the PC though…maybe the laptop?
Not only does the device use the phone as a remote, it also adds the ability to stream media from the phone itself. Want to show off the video you took of the kids birthday party? Stream it via Chromecast.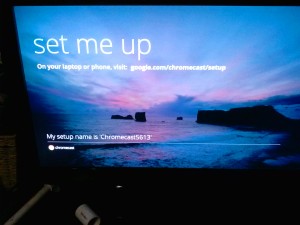 There are a few drawbacks. First, it requires an HDMI port. Most newer TVs already have this though. Currently, Chromecast has limited paid service support. Right now, it is only Netflix, Hulu Plus, YouTube (of course), Goggle Play, and Chrome browser, but the list grows a little every week, and as long as their is a web interface for the service, you can stream it over your Chrome browser. That is another drawback, at least to some – it only works from your PC (or Mac) from a Chrome browser, at least as far as I've seen.
Other than those easy to work around issues, I'd call this one a home run. I've EASILY spent enough money on HDMI cables alone used to connect PCs to TVs that would cover the cost of a Chromecast. And even if you already have TV service, this expands your TV usage to the internet, making the TV a large screen expansion to your browsing.
And who wouldn't want to watch a viral YouTube video on the big screen?
Chromecast is currently in stock at Amazon.com. If you click on the link and purchase one, you will be supporting FloridaHillbilly.com, as Amazon ALWAYS pays out a referral fee.
To make that clear, every item sold through Amazon.com, someone gets a small percentage for driving the traffic. Why not do that through me to support your favorite Hillbilly stranded in the sugar sand and heat of Florida?
And if you don't buy one through me, that's fine too….but if you watch TV, and watch video on your computer, you'll be wanting one of these, I promise.
Peace,
db
As always, please "like" FloridaHillbilly on Facebook, subscribe to my feed,  follow me on Twitter, add it to Google+, Pinterest, Linkdn, Digg, and/or tell your friends! The more folks that start behaving like ants, the fewer grasshoppers there will be left needing help.
Need something from Amazon (and who doesn't)? I earn a small commission from purchases made when you begin your Amazon shopping experience here. You still get great Amazon service and your price is the same, no matter what.