Share the post "The Ultimate Secret to Preparedness"
A while back, my family and I were at a cookout at a friends house. Also attending were several couples that I'd never met before. After the festivities started to wind down, one of the new acquaintances mentioned my website, catching me off guard. I was well aware that my friends that were hosting knew of my site, and I'm fairy certain that they share many of the same beliefs and, shall we say, "past times", but I wasn't aware that they'd actually mentioned what I did to their friends as well.
Apparently, I swing a larger loop than I thought. Well, two people larger, at least.
The conversation quickly went from fun to serious, with topics such as systemic failure, foreign invaders, and the increasing appearance of our government preparing for a police state. I did what I could to keep everything levelheaded, basically saying that while I KNOW bad things WILL happen, the things I expect to come true are things like job loss, sickness, and other mundane, less extravagant realities.
Bad things happen every day. We all know that. But some folks take the reality of bad things WILL happen to extremes. The person speaking earnestly with me kept coming back to the same thread, "Well, whatever happens, I have guns and ammo enough to deal with it." He then would ask me what my plans were when "things go wrong".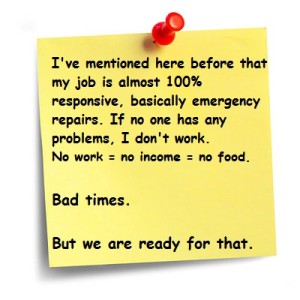 I replied that we have food enough to get us through several weeks of no income, and have used it before when I've had a slowdown of work.
He nodded, glazing over my answers and went right back to the "End of Days" scenario.
A world Without Rule of Law.
Everyone for themselves.
Mad Max type days.
The S has hit the F.
I was a bit annoyed that he dwelled on the far less likely scenario, ignoring the reality that he himself had even admitted to have experienced several times in his life.
After several attempts at getting him to realize he needed to start small, since most "Bad Things" occur at the most local of levels, I changed tactics. I went with his storyline, breaking it down to the most simple of details. My response, taking his scenario of complete social breakdown:
Stay put. Make my place look ransacked and worthless. Stay inside. Wait. For at least a month.
He nodded, agreeing it was a good idea, then went on to ask or my reasoning.
I stated that using the Rule of 3's,  after a week or so, many will have died from dehydration. After three weeks, plus a few days, most everyone will be very close to starving to death. That's assuming that no power, no supply trucks, no law enforcement. His baseline. My answer.
Then as I watched him nod, agreeing it was a fairly sound plan, I tried planting the seeds that failed in my first round.
"You DO have water enough for your household for at least a month, right?", I asked.
He responded that he did not, but had always planned on at least putting in a rain barrel.
"You should do that tomorrow."
He replied, "Oh, I can do that any time. I even have a guy that will sell me a couple food-safe barrels."
"Do it tomorrow."
"But I can have it ready any time I need it."
I pulled the trigger with, "When you NEED it, it will be too late."
He never did see my point. I hope he reads this and understands I'm trying to help him help himself.
The ULTIMATE secret to being ready tomorrow, is do something today.
That is it. If you want to be ready for tomorrow, do something to today improve your tomorrow.
Peace,
db
As always, please "like" FloridaHillbilly on Facebook, subscribe to my feed,  follow me on Twitter, add it to Google+, Pinterest, Linkdn, Digg, and/or tell your friends! The more folks that start behaving like ants, the fewer grasshoppers there will be left needing help.
Need something from Amazon (and who doesn't)? I earn a small commission from purchases made when you begin your Amazon shopping experience here. You still get great Amazon service and your price is the same, no matter what. And for the record, all of my Amazon links provide me with this referral fee.