Share the post "Thrifty Food Buys for 9 August 2012"
This is my only "regular" weekly post, and it revolves around stores in my area, and food that we eat. We practice "Eat what you store, store what you eat". Since I try to eat "Paleo", this means very little food that includes any grains, legumes, or refined sugars. I will have a few of these items, but not many. I will also be buying in bulk, typically 20 or so of the items highlighted, in order to save over a longer period. I saved over 20% of my food bill last year buy buying in bulk, and eating food purchased at the previous year's prices. Some items may require processing of some sort, canning, dehydrating, etc.
Stores I will be choosing from will include Publix, Winn Dixie, SaveaLot, and WalMart.
 With most sale information being pulled from SouthernSavers.com.
I will also include some version of this intro every Wednesday.
Let's get started!
Publix options:
Really not much here this week, as far as great long term prep deals.
Jennie-O Turkey Sausage or Kielbasa, 14 oz, $1.99

-$1 off Jennie-O rope sausage, (zip 84123) printable

-$1 off Jennie-O Turkey Store rope sausage (Facebook) printable
(makes it 99¢)
Morton Natural or Iodized Sea Salt All Purpose, 26 oz, $1.69

-.35/1 Morton sea salt item, excl 4.4 oz fine sea salt, RP 4/29

-.50/1 Morton's sea salt, excl 4.4 oz fine sea salt (Facebook), excl 4.4 oz fine sea salt printable
(use .50/1, makes it 69¢ each) (Salt is always good to have on hand)
Winn Dixie options:
Fuelperk info: Every $50 spent gives 5 cents off up to 20 gallons. Plus, some items give additional Fuel Perks. Every 5 cents in Fuel Perks equates to $1 saved, as long as you purchase 20 gallons of fuel when you use the Perks. We have an 18 gallon tank, and load up a 2.5 gallon gas can. More info regarding Fuel Perks here. For this exercise, Fuel Perk savings are figured into each individual item that has them.
Fisherman's Wharf Easy Peel Extra Large White Shrimp, Peeled and Deveined Medium White Shrimp, or Cooked Cocktail Shrimp, 16 oz, 26-30 ct., 41-50 ct., at $10.99 (BOGO $5.49)
Save-A-Lot options:
Not a lot new this week, the sale is carried over from last week.
Crystal 2 O Drinking water 24pk, 16.9 oz bottles $2.48 Another two weeks at this price. Will be loading up again.
Boneless Eye of Round Roast, $2.49/lb This is what I made the biltong from. Will be grabbing this again.
Save-A-Lot also has several sale items in the sliced lunch meat department. These will be checked for HFCS and other nasty additives before we consider adding them. We will be bringing home more of the Buddig gluten- and HFCS-free meats, like we always do.
===============================================================
Not a lot worth making a special trip out for this week. Seems like a good time to go cruise the farmers' markets and green grocers and fill up the dehydrator. It's also the "One Bad Day" time for several rabbits, I'll probably fire up the pressure canner for them.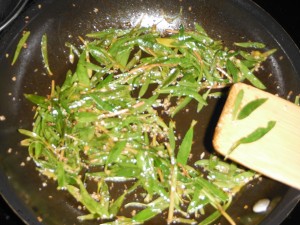 Looks like we'll be eating a lot of sand fleas (should go well with the shrimp on sale above) and sea purslane 😛 At least those are all free. The water is warm, and lobster season is in also, may have to go add a few "bugs" to the freezer, or I could do some spear fishing.
On the brighter side, intermittent fasting from time to time is a recommended in the Paleo diet.
Bleh.
db
Peace,
db