Today's article is brought to you by Stacey's Tasties. They offer a long lists of canned jams and jellies, including my personal candied jalapeno recipe. She sells out quickly, but is always making more….drop her a line to see what she has in stock…and tell her Florida Hillbilly sent ya! And yes, she ships!
My brother contacted me to borrow one of my FRS handheld radios. While talking about it, he mentioned a new radio he and some of his flying friends (powered paraglider guys, nut-jobs, if you ask me! I mentioned him and his antics here.) He was saying that the radio had several hundred mile range, and was programmable…all for the low price of around $50, not much more than what I paid for my FRS radios.
So I was very intrigued. I know a bit about radio frequencies, and how the "good" stuff is regulated by the FCC, and in many cases, a license of some sort is required. So I wanted to know where I could get a radio that offered that kind of range from a handheld, so I looked into it…
…and came back to the same end result for getting long range communications power out of hand-held radios, go with HAM, or Amateur Radio. I've looked into it a little, but really have only a very basic knowledge of the guidelines (three levels of licensing, each allows a wider range of frequencies).
I see a several possible uses for a HAM license, particularly if I can get a radio for $50. With a much longer range, plus the possibility of hitting repeaters and going about anywhere in the world, HAM might be another feather to add to my technical cap.
The first test, Technician, costs only $15, and is 35 electronics-based questions. I've gone through several sample tests and have done fairly well, without any studying, thanks to a technical background. With a little more practice and a bit of reading, I should be able to pass the test.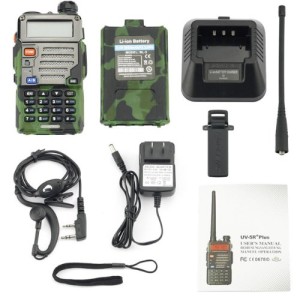 The radio in question is the
BaoFeng UV-5R+ Dual-Band 136-174/400-480 MHz FM Ham Two-Way Radio
. The reviews are mostly good, with the detractors mainly reasonable, licensing required, and odd lemon, etc. I love to research the snot out of something when it is new to me and I am interested, and this is both.
My reasoning behind the idea of getting into HAM is that I work on the road, sometimes an hour or more away from home. I carry enough gear to get me home by either mechanical repairs, or using the "shoe leather express", but in the event of a true emergency, lines of communications (the cell phone) can be down. We've had it happen in multiple storms before. Since I base most of my choices around how to keep my family safe, letting the wife know what I am doing and where I am, along with a potential ETA home will allow her to better deal with a crisis.
Overkill? Possibly, but its my nature, I've sad before that bad things happen…and NONE of you can argue that I'm wrong. Two $50 radios, some studying,and a couple of tests seems like a small price to pay, just in case. (Been a while since I typed THAT out!)
My questions are:
Should I go with HAM?
Is there a better , license-free option (keeping me off one more government list)
Is there a better handheld HAM radio available with a similar price point?
Do any of you have your HAM license, and if so, why?
Should my wife get her license as well, since my primary reason is to stay in touch with her, or can she piggy-back on mine?
At $15, I can get the license either way, and probably will.
As to the radio, I'm not sure yet, but it seems to be a good idea…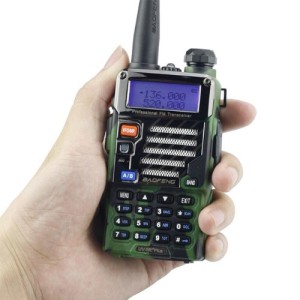 …Plus, it comes in camo
Peace,
db
As always, please "like" FloridaHillbilly on Facebook, subscribe to my feed,  follow me on Twitter, add it to Google+, Pinterest, Linkdn, Digg, and/or tell your friends! The more folks that start behaving like ants, the fewer grasshoppers there will be left needing help.
Need something from Amazon (and who doesn't)? I earn a small commission from purchases made when you begin your Amazon shopping experience here. You still get great Amazon service and your price is the same, no matter what. And for the record, all of my Amazon links provide me with this referral fee.