Share the post "Unknown Places: IRC Public Shooting Range"
When do you welcome the government into your gun life? When they operate a public shooting range at the county level.
First, its good to be back at the keyboard. Thanks for all the well-wishes. I'm hurting, but have been sitting idle for about 36 hours since my operation, and HAD to get back to it…
The Sunday before my surgery, I was asked by an friend to tag along to go shooting at the Indian River County Public Shooting Range, located in Sebastian, FL. I was more than happy to do so, and brought along my wife and youngest daughter, and both were looking forward to doing some more shooting. I have accumulated several guns I had not yet taken the time to fire, and after doing all the hard work in wheeling and dealing to get them, I SHOULD take the time to test them out, right?
As we met my friend, he informed us that the wife and daughter weren't dressed appropriately – the wife had on a sleeveless shirt,and the daughter had open shoes. We quickly resolved that and hit the road. (More on the rules below, be sure to go over them before making the trip)
From my house to the range is a mere 50 miles, part of the price I pay for having a house within minutes of the ocean, I suppose. There were several other options, but many of them have closed for various reasons. Occasionally, I get invited by a private land owner to use their place to shoot, but having enough land to legally discharge a firearm around here is a scarce thing. Fifty miles was OK by me.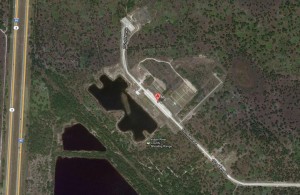 The range is set about 2 miles from Interstate 95, but is fairly secluded.
Set on 315 acres, it includes wet hammocks and prairies, marshes, and mesic flatwoods. What does that mean? Its your typical Florida inland mixture of unaltered scrub and swamp. This property was part of the Sebastian Creek CARL project, acquired in a partnership between the conservation and Recreation Lands (CARL) program and the St. Johns River Water Management District. Sebastian Creek is an important aggregation site for the endangered West Indian manatee. The surrounding lands provide important buffers and are important habitat and natural communities in their own right. The CARL project was intended to protect the manatee and the water quality of its habitat by protecting much of the Sebastian Creek banks as well as substantial upland buffer. The project was originally designated as a state buffer preserve and was also intended to provide the public a large area for camping, fishing, hiking, and other pursuits.

Currently the land is used as a public shooting range, one of only seven ranges in the state operated by FWC. Funding for range facilities was provided by a Pittman-Robertson federal grant administered by FWC. The facilities, including the road, borrow pit, ranges, buildings and associated facilities, take up about 33 acres, approximately 10%, of the property. The remainder of the property is primarily in natural condition (Map 6).
The Indian River County Public Shooting Range is one of only 13 ranges in the country with a five-star rating by the National Association of Shooting Ranges (www.rangeinfo.org). Five star ranges are "the best of the best at providing a quality recreational experience for customers and representing the shooting sports in their community." The rating is based on appearance, management, customer service, amenities, customer development and
community relations.

The public shooting range has a separate pistol range with 35 firing stations. It also has a separate rifle range with 29 firing stations. The ranges provide 25, 50 and 100 yard range targets and two 200 yard target firing stations. Both ranges are lighted for night-time use.

Taken from: myfwc.com/media/132269/CMP_IndianRiver_2008-2018.pdf
Details:
Facilities
• 5-stand shotgun range (Available only Sat and Sun)
• Pistol Range consisting of 35 firing stations
• Rifle range with 29 stations including two 200-yard target firing stations
• Air gun range
• 65-yard archery range
• Walk-through sporting clays (Available for special events – contact range for details.
• Walk-through archery course
• Gun shop
• Fishing Lake
Take a Kid Fishing
If members of your family or party would prefer to undertake other activities, the shooting range has a lake that has been stocked for those who would enjoy taking a child fishing. Only adults with children are allowed to fish! Loaner fishing rods are available for the kids.
Hours of Operation
9:00am – 5:00pm Thursday through Monday Closed Tuesday and Wednesday. *NOTE: The Range may close early or have delayed shooting due to inclement weather. Registration closes one (1) hour before the close of business.
Thoughts:
Neither my friend nor my family had ever been there. The check in procedure was straightforward, and easy to understand. David, the person checking us in, was friendly, informative, and seemed to genuinely care about our experience. He was very helpful, and walked us through the process. Targets, ammo, and cardboard backers were for sale inside as well. I believe they also had rental guns, but call to check on that, the phone number is at the bottom of this page.
The Range Officers were attentive, and well aware of what was going on, something I deeply appreciate. Each gun was checked EVERY time before the range was called cold. Shooting can be a safe, enjoyable event, if handled properly. These folks do just that.  These guys knew their jobs.
Shooting stations each had a couple sandbags provided, with more available if needed. Several spotting scopes were also available. The seats were ambidextrous, and height adjustable. The only issue I had was mosquitoes, but hey, this IS Florida…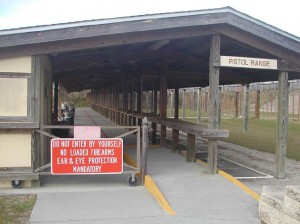 I used the 100 yard and 50 yard rifle range for two rounds. My wife used the pistol range for one round. Her first statement was "I really felt safe shooting there, the Range Officers didn't miss anything that was going on." I couldn't agree more.
This a 100% definite thing, I will go back there again, even if I were to find someplace closer to shoot. It was a very well run range, and I was at ease the entire time.
How was my shooting? Well, I hit the paper…but I'm not happy with my guns just yet. We were pressed for time, so I plan on going back when I can spend several hours with my rifles to tweak the optics a bit more. And I can always use more practice.
Just in case….
db
Notes:
Their website can be found at http://www.goshootingirc.com/
Rates and fees: http://www.goshootingirc.com/Rates.htm
Range Rules: http://www.goshootingirc.com/rules.htm (Read these before going! We found after arriving that our 9 year old was not allowed to shoot, or be inside the shooting areas. Thus the reason I didn't shoot pistols, as I sat in the car with her.)
Phone number: (772) 581- 4944
Location:  10455 102nd Terrace, Sebastian, FL.