Share the post "Book Review: Forsaking Home (The Survivalist Series)"
Last December, I reviewed the first three books of the Survivalist Series. I had been contacted by the great folks over at TLC Book Tours, a book promoting firm. The storyline follows Morgan Carter as he is traveling several hours drive away from home as an EMP hits all of the United States, bringing our world to a crashing halt.
The first three books takes Carter from his forced hike across northern Florida to his home. The two hours drive home becomes a long, arduous hike full of danger and hardship. Upon arriving home, he finds that even with all his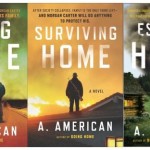 planning and preparations for the bad times he saw as a possibility, he still had to leave his security and find a place to take his family and close friends to be safe again. I read the first three books in the series, LOVED them, then found out that there was still one more book yet to be released.
To me, it was like the Harry Potter or the Lord of the Rings movie series…just as you get sucked into the story, you realize that now you have to wait a year for the next segment. Happily, I didn't have to wait a year for the final book…only about 4 months.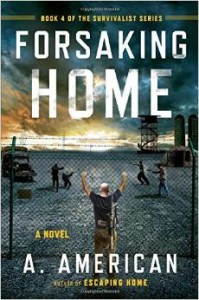 Forsaking Home, book four of the Survivalist Series, is being released on June 24, 2014. It follows Carter and his little group as they struggle to eke out a living in an increasingly hostile environment. In a world without law, survival of the fittest (or sometimes sickest) becomes the norm. Food and water have become so scarce as to have people killing each other just to have something to eat. And to make matters worse, the government has decided that this is a perfect time to start rounding up everyone to start filling out forced work camps "to provide for the common good".
As the final book in the series, Forsaking Home does a very good job in pulling all of the strings of the story together, brings everything to a head, and gives a fairly good conclusion to the whole thing. I enjoyed the final book as much as the first in the series. It was an easy read that flowed well, and kept my attention. Too well.
Like the other three in the Survivalist Series, Forsaking Home had the ability to make me stay up late, falling asleep with my face in my Kindle, and not accomplish any of my plans until I was done reading. Forsaking Home had me so caught up in the story that I did a marathon reading session, finishing the final book in less than two days.
And like any good story, I was happy to see the final outcome, but was left wanting more. What more could an author want?
Things I liked most about the the Survivalist Series is the background story describing the methods used to procure food for the group while living along the edge of one of Florida's rivers. Foraging, hunting, fishing, and trapping were all used and described in enough detail to show that the author does have actual knowledge of the methods used.
One of the things that gives me confidence in almost any situation if the knowledge of how to feed myself and my family from "found food". Cattails, smilax, blue crabs, fish of any kind, a large variety of fruits, as well as a multitude of wild edible plants all abound here in Florida. The author, A. American, shows that he is familiar with many of these food options here. I applaud this. Being a very literal person, I like for stories to have minor details that are accurate. (I am currently fuming over another story were a guy was shot with a "rusty musket ball". Musket balls are made of lead…rust is formed on iron, not lead. The Devil is in the details!)
Since the entire story is set in central Florida, I was enthralled to read through each of these books. I hope A. American reads this and decides to write more dystopian fiction set here… possibly one that follows the group as they rebuild society???
And maybe he will include some background story involving manatee steaks….
If you are interested in reading this, I have good news! The promotional company is giving away the entire series to one lucky winner!
Post a comment below to be included. I will randomly draw names on July 1 at 8am. Limited to entries from the U.S. and Canada only.
The contest is over, our winner is Jason Garry
WOOHOO!
If you read my blog, odds are, you'll enjoy this series…
As always…
Peace,
db
As always, please "like" FloridaHillbilly on Facebook, subscribe to my feed,  follow me on Twitter, add it to Google+, Pinterest, Linkdn, Digg, and/or tell your friends! The more folks that start behaving like ants, the fewer grasshoppers there will be left needing help.
Need something from Amazon (and who doesn't)? I earn a small commission from purchases made when you begin your Amazon shopping experience here. You still get great Amazon service and your price is the same, no matter what. And for the record, all of my Amazon links provide me with this referral fee.