Share the post "Kayak Fishing as a Prepper"
Preparing for things is a part of all segments of my life. This is how not being prepared can ruin your day, but being prepared makes the uncomfortable into a non-issue. This is also a fish story, and as everyone should know, fisherman lie…so take this with a grain of salt. (But I promise it is all true!)
In building my community, I have met lots of folks in all walks of life, and from time to time, I find i have some common interests with complete strangers. This makes interacting with them a much easier process.
For example, when I was trying to find pig fat in order to render my own lard, I spoke with the person that worked the meat counter at my local Publix. I as I interacted with him over the next few days, I found he was an avid fisherman.
As time passed, I started spotting him fishing at some of my favorite spots. Apparently, we had been fishing through the same areas, and simply never run into each other before. Even on a stop to just buy a gallon of milk, I now make it a point to stop by the meat counter at ever trip, simply to talk fishing with him.
And, as it turns out, at that same store, the manager also fishes, and they get together from time to time to fish, mostly from kayaks.
I love my kayak. With no trailer to worry about (I HATE trailering!), I find it is a simple matter to load the `yak on my truck, dump my gear in the back, and go. And since it is light enough for one person to handle, I can launch in places larger boats cannot. I can also access waters that larger boats cannot, allowing me to get into areas with relatively low fishing pressure.
Look at this map of my "stomping grounds". The center of the map is within a mile or so of my house. You can see that not only do I have the ocean within a mile of my house, I am almost surrounded by other waterways, all full of world-class fishing.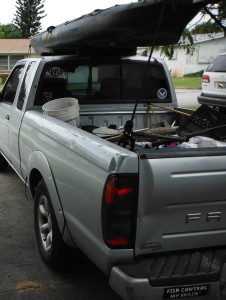 As you can see from the map, I have some serious amounts of fishable water near me. So having a kayak was almost a "need" rather than a "want"…. almost. How about I write it off as "therapy"? Either way, I have it, and wish I used it more.  My problem is life gets too busy for me to make time to get out there, even though I've established a system with very little effort to allow me to go fishing. And this is sad, because I have a small mental instability that is expressed best my the bumper sticker you see in the bottom of this picture.
So when I was asked to go fishing with my new friends from the grocery store, I gladly accepted. Plans were made several weeks in advance, a date was set, everything was lining up nicely….and the weather turned ugly on the target day. Winds of 10-15mph out of the northwest, a nasty cold front, and kayak fishing makes me realize how much of a wuss I have become, having lived here so long. The guys were die-hards, adamant that we would be fine, so I conceded, and planned for a wet, miserable day.
But, I quickly realized that unlike my two fishing companions, I had an ace up my sleeve! I spend my days in and around water for my work. I spend as much as twenty hours a week actually underwater as I do inspections and repairs on pool surfaces and plumbing. I know what it takes to combat and, if I'm lucky, prevent hypothermia from getting the best of me.
Staying dry is the first trick. So I decided to wear a pair of Allen Company Platte River Breathable Stockingfoot Chest Waders. This would keep my legs and lower torso dry without too much encumbrance. The aren't insulated, but they ARE waterproof. Under those I wore some performance base layer pants, covered by some workout pants. (Yes, I was wearing pants!)
For a shirt, I wore a fleece lined compression shirt. (Being a frugal shopper, I like to pick up all my cold weather gear when the weather turns warm – its gets marked down significantly!) Over this, I wore a Mustang Survival Bomber Jacket (in black/yellow) I picked up at a yard sale for CHEAP! This thing is the Rolls Royce of flotation jackets…and since I was supposed to have a flotation device with me by law, I thought this would work out well…and it did.
Topped off with a snook pattern Buff to cover my face and neck from the biting wind, and my ever-present urban camo boonie hat, I was all set.
They guys both laughed out loud at me, and I'm sure they thought I was rather foolish to be decked out in such gear for a simple inshore fishing trip in waters so shallow 90% of was over our heads. But unlike the, I'm a prepper. Plan for the worst, hope for the best has been my motto for years.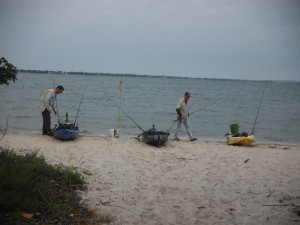 We launched from Chastain Beach, close to the St. Lucie Inlet. We fished with live shrimp across the flats and through the channels. With the wind in our faces as we launched, the waves beat us back as they continually washed across our decks. I would paddle into the wind, then drift back bouncing my shrimp across the bottom. My first two casts produced nice strikes that I fought for several seconds, then, sadly lost.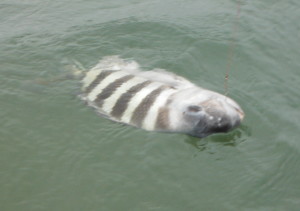 Eventually, as I drifted past a channel marker, a nice sheepshead, one of my favorite target fish, decided my shrimp was too tempting to pass up, and I was able to keep a fish on the line all the way to the boat. This ended up being the only one I brought home, sadly. 
I did catch a couple saltwater catfish, a fish even I won't eat. I also lost a ladyfish after it made several cartwheels. I've heard ladyfish refers to as the poor man's tarpon, and they truly are a fun fish to fight with all their aerial acrobatics…but the fun ends there. Being a fish with a LOT of slime, I prefer to let them jump a few times then throw the hook.
As the morning progressed, the wind picked up, and I gradually lost ground, getting pushed closer to our launch site. I didn't mind mush, as I like to target the docks, since they are a popular hangout for sheepshead. I did manage two hook two more, but lost them before being able to boat them.
A little less than three hours later, I noticed the other two kayaks were no longer in sight. Paddling out of the little cove I was in, I saw both were beach at our landing spot, so I headed that way.
As I approached the beach, both of my friends looked cold, wet, and miserable, while I was still dry and relatively comfortable. My "outlandish" clothing had saved me from a long, unhappy morning, and I was ready to continue fishing. I opted to leave though, more out of laziness than anything, not wanting to have to launch back into the face of the wind.
The trip was fun, and my gear turned out to be just the ticket for the situation. Planning DOES make you lucky, it seems. I was the only one that brought home any fish.
As we loaded up, I broke out one last item to try to make things a little more bearable. Grabbing a couple of my Hotsnapz, I activated them and handed them over, to let my cold fishing companions warm their hands before loading their gear. They were grateful, and vowed to get some of their own for their next trip.
I think I'll be invited
Peace,
db
 As always, please "like" FloridaHillbilly on Facebook, subscribe to my feed,  sdd it to Google+, Pinterest, Linkdn, Digg, and/or tell your friends! The more folks that start preparing themselves, the less likely they are to invite themselves over for a "free" fish dinner!