Share the post "Larabar Reviews – Prequel and Company Info"
Thanks to James over at SurvivalPunk, I found I am able to use my considerable fame here at FloridaHillbilly to request samples for review. How could I pass up my favorite snacky/health food, Larabars?
I've written about the bars before, having tried several from the locally limited options, but when I contacted the GREAT folks over at Larabars, I was given my choice of flavors…..something I don't deal well with is too many choices. Larabar offers a staggering 22 flavors in their line…too many for me to choose. So I opted to let them send what they will, with a single caveat – no peanuts. (Peanuts are legumes, not nuts, and are not allowed in the Paleo diet/lifestyle due to the harmful lectins and phytic acid contained in them.)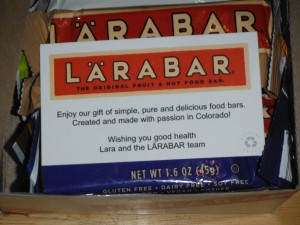 My initial contact, a Marketing Coordinator, sent me an email that left me wondering just who these folks were…. the email address contained the world "bananas" as part of the name…what kind of corporate policy allowed that? The note was short, polite, and, well, fun! Exclamation points all over, single-name signatures, as though we'd been friends for years, and a definite "yeah, we'd like to let you check our products out – WE think they are great, you will too" attitude. The most striking thing I saw in the email was this line:
Please consider the environment before printing this message.
That is an exact copy, including color. Holy smokes, I think they actually CARE…and have FUN doing it! I was always under the impression that job satisfaction was like stealing from the company… apparently the folks over at Larabar don't feel that way.
Awesome!
I had to do more digging about these folks.
Larabar is located in Colorado, home of the Rocky Mountains, and hiking, two things that were part of the original story behind the bars. In May of 2000, Lara Merriken was hiking the Rockies, and starting kicking around the idea of "combining wholesome ingredients such as fruits and nuts to create a food product that was tasty, healthy and convenient." Starting with five flavors, they've added many and retired a few (I REALLY would like to have tried the Cocoa Mole'!)
Larabar is owned by General Mills. I'm not a huge fan of "Big Business" food companies, so my initial  thought was, "Oh, sellouts". I publicly apologize for that thought, my ignorance was showing then. My research shows that General Mills has a history of being, well, "Good Guys" as far as this Hillbilly is concerned. Read more about them here. And while they sell a lot of stuff not in my regular diet, I will definitely look at their products in a different light from here out. Since Larabars originated in Colorado, as far as I'm concerned General Mills' involvement is the only way a HillBilly in Florida would have ever heard of these Paleo-approved treats, let alone tasted any of them. So thanks, General Mills.
Speaking of Paleo-approved, Larabars are also have no added sugar, are unprocessed, non-GMO, gluten free for celiacs, Kosher, low-carb, mostly (depends on flavor-check packaging) peanut-free for those with peanut allergies, a raw food for those enthusiasts, as well as soy free (though any Larabars made with chocolate chips are processed on machines that process soy – be aware), and vegan and vegetarian-approved. Seriously, are there any diet limitations that cannot eat at least SOME of these? My brother and his family are vegan, my family is Paleo (gluten-free meat eaters)…this means if both families get together for thanksgiving, Pecan Pie Larabars may be the only common ground for the meal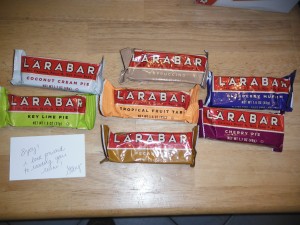 Ingredients are simple – a delicious blend of unsweetened fruits, nuts and spices. Made from whole food, each flavor contains no more than nine ingredients. Flavors we taste-tested and will be reviewing are: Coconut Cream Pie, Key Lime Pie, Cappuccino, Tropical Fruit Tart, Pecan Pie, Blueberry Muffin, and Cherry Pie. Some I liked, some I LOVED, and some were so-so at best.
I won't pull any punches, this make get brutal. Women and children may want to leave the room. Please wear the special safety glasses. Please remain seated until the ride has come to a complete stop….
We ate one a day. I would slice it, take a picture, then taste test it. The wife & I compared notes, and discussed what it tasted like in "real food" flavors, and how well it copied them. So over the next few days, I'll be posting reviews of each bar that was taste-tested in our house. Each bar will get its own page. I will also edit this page to link them here as they are completed.
I'll close with this – writing this blog has been a pain at times (it's 1:39am as I type this, and I have to be up at 6am) as I lose sleep, fret over wordings or what to write next, and in general, I have been treating it like a "job". But when I get the chance to test out something like Larabars, it makes all the annoying parts go away. I thank them for the opportunity to let the world know what I think. I will say that overall, they have a great product line. You may not like them all, but I'm positive that they will have at least one flavor you would enjoy, if not several. Stay tuned for more details.
Peace,
db
Links:
Coconut Cream Pie
Key Lime Pie
Cappuccino
Tropical Fruit Tart
Pecan Pie
Blueberry Muffin
Cherry Pie.
Also, if you want to try Larabars in your local grocery store, but cannot find them, go to their product request page to get some ordered in a store near you!
Product Reviews/Disclaimer
This product was provided at no cost to myself in order to provide a review. No monetary compensation was provided to do so.
The FloridaHillbilly.com is a lifestyle website written independently of any product or service. This is not a sponsored blog.From time-to-time, we will review a product or conduct a giveaway. The product review is our opinion and has been tested by us. Giveaways are open to those living in the continental U.S.If you would like us to review your product or conduct a giveaway with us, please e-mail db (at) floridahillbilly (dot) com.
Many times we also share products we love with our readers. They are truly items we come across that we like, and want others to know about. We will make the distinction between items we purchase ourselves and provided product reviews.