Share the post "Muscovy Ducks – Yard to Table"
For the faint of heart, and/or the vegans. Be warned that this post includes descriptions and video of animals being dispatched for food. If you don't like the thought of facing your food, don't bother to read any further. I'm not writing this to make friends, or enemies. I'm writing this because some folks want to get back in touch with the skills we've lost. Vegans, please click here instead. Soft-hearted tree huggers, click here.
You've been warned.
I picked up 4 Muscovy ducklings about a year ago, in hopes of getting Muscovy ducks started in my yard for eggs, meat, and pest control. Two of them made it to adulthood, mostly by NOT jumping the fence into the neighbors yard full of dogs, unlike the two I lost.
And somehow, I ended up with a male and a female. As things things usually go, fast forward about 5 months, and I ended up with 10 baby ducks.
Oh Happy day! I had succeeded in producing my own ducks! OK, in letting it happen on its own. Muscovies are very self-sufficient, and need almost zero input from me on a daily basis. Water and a place to forage, and they've been happy.
Now that they have started to feather out, I thought it would be a great time to see just how worthwhile they are as eating birds.
Choosing one of the largest ducklings, typically indicating that it was a male, I quickly cornered and capture him…
Let me pause here, and state once again, that I get no joy from killing animals. I choose to raise animals for my own consumption (see this post of mine for more details), and having grown up doing so, prefer to dispatch and process them myself, since nobody else would take as much care in processing MY food as I would. Let's just say I trust very few to handle my food. Good cooking can only go so far to cover up poorly handled food. (See FHP Tip #4) On the other hand, properly handled animals protein almost always yields a better end product.
Back to my freshly captures Muscovy drake.
Using the same method that I use for dispatching chickens, I hung the bird upside down from a loop of paracord around both feet. The bird quickly calms down, I'm guessing from too much blood to his brain. Whatever the reason. The bird remained calm.
Last chance for the squeamish…
Using my stainless steel Mora, freshly sharpened, I make a smooth, quick slice across the jawline of the bird, cutting through its jugular vein and carotid artery. This allows the bird to quickly bleed out with a minimum of trauma. I was also told this is the Biblical method for slaughtering animals, and that while dying, the animal struggles, shakes and kicks, not due to pain, but due to the contraction and relaxation of the muscles deficient in blood and due to the flow of blood out of the body.
Once the bird had bled out, I then cut off the head.
Here was my first lesson. I thought I'd try to pluck the bird dry, without scalding it first. Scalding is a pain, as I have no good method of heating water outside, so mush heat it inside, then carry a pan of almost boiling water to my harvest station. About twenty minutes into this lesson in futility, I called asked my wife to start a pot of water boiling while I continued to work at removing the stubborn feathers. Once I scalded the bird, it all became MUCH easier, though still quite a hassle. I plan to make a rotary plucker eventually to help in this task.
Once plucked, I then cut around the vent to start removing the organs. Once cut free, I remove the "exit hole" with some of the surrounding tissue (I don't want to eat THAT!), and pull out the intestines, being sure to save the gizzard, heart, and liver (being sure to remove the gall from the liver, btw).
I also cut across the base of the neck just through the skin, in order to help remove the rest of the entrails from the front of the body cavity, being sure to remove the lungs as well.
I repeated the  same process with a second Muscovy, only this one I skinned instead, to compare the end results.
Rinse, soak, then go over again, getting all the pin feathers I missed from the plucked bird.
I allowed them to sit in lightly salted water for a couple days, then using a sharp knife, cut very light slashes through the breast skin. I then rubbed in liberal amounts of fresh thyme, salt, and pepper. I stuffed the body cavity with a quartered lime (it's a Florida thing) and the remaining thyme I had.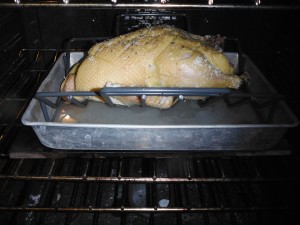 Placing it on a roasting rack in a pan, I then put it into the oven preheated to 350 degrees for an hour and 15 minutes. At that time, I then turned up the heat to 450, then roasted it for another 30 minutes to crisp of the lovely skin.
While the skin-on bird was roasting, I took the skinned bird, and filleted the breast portions off. Dusting them with sage, salt, and pepper, I then gave them a quick sear on both sides for about 2-3 minutes per side in a pan of butter on medium high heat. The fillets I then sliced across the grain after about ten minutes of resting, then tasted them.
Wow. Holy Wow! Sweet, yet not overpoweringly so. Odd, too since I added no sweetener to the birds. Not quite like chicken, but also not greasy like duck. Superb seems to fit the bill very well. My only complaint was how small the breasts were. In retrospect, the birds were only about 10 or 11 weeks old, so on the young end of the scale for prime harvest age. I understand that 12-14 is the better age to start harvesting, but I had a window of opportunity to give this a try. I also have 6 more birds waiting to be harvested, or added to the breeding stock. I'm thinking a little of both!
As to the roasted duck, the skin came out fabulously crispy, better than any home made pork rind. Again my biggest complaint was the overall size of the bird, something I can remedy easily.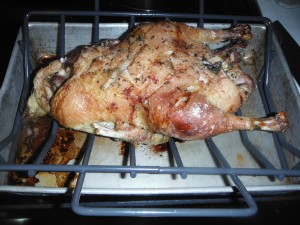 And as to the organs I saved, I sliced the heart and liver up, dusted them with sage, salt, & pepper too, then fried them in butter. I believe I like duck liver better than rabbit liver! Oddly, both organs were also a bit on the sweet side. Nice!
As to the remains of the skinless bird, I quartered that, then slowly simmered it for 3 hours in wine with some salt, pepper, and sage. This I shredded like pulled pork after it was drained, cooled and deboned. I was supposed to mix it with fat as a sort of bread spread, but it never had a chance, once I tasted it.
What did I learn?
Scald birds and pluck them over skinning – the skin is SO worth it!
Get a plucking machine of some sort.
Let the birds mature a bit more. Older birds are larger birds, yielding more.
Muscovies are well worth the trouble. I'll be keeping them as a regular part of my urban-stead.
Here is a video of the entire process. Brian over at thewannabehomesteader.com has been bugging me for it for days. Hope it lives up to his expectations! Thanks for the push, Brian!