Share the post "Product Review: Altai's MF Tactical Boots"
From time to time, I am contacted to review products, some good, some not so good. I won't review a product I wouldn't try to use regularly, and won't review products that aren't realistic. When I get a request to review an item that "duplicates" products I rarely find to be impressive, I cringe, expecting a lot of pomp and circumstance and very little quality or performance.
Take footwear. I need to come clean right off the bat. I own almost as many pairs of shoes as my wife…and she's got far too many. We aren't Imelda Marcos, but we really do have far too many pairs of shoes for the number of feet we have multiplied by the possible situations we are regularly in that require different shoes. Hard to follow? Let me explain:
I hunt, fish, and kayak. I work in and around pools. I live in Florida. I seldom dress up, or even wear pants – I wear shorts about 364.5 days a year.
Therefore, I need a pair of hunting boots, a pair of wading/fishing shoes (double as work footwear), a pair of loafers/deck shoes for casual outings, and a pair of dress shoes to mostly collect dust. That is four pairs of shoes.
I own 17 18 (I bought another pair of swim shoes since I started writing this – sad, I know) different pairs of shoes. I like "specialty" shoes for particular situations. I have a pair of beach fishing shoes…different from my wade fishing ones…or my kayaking shoes. The pragmatic part of me thinks that this is ridiculous.
I also own 5 different pairs of boots, one of them now being Altai's MF Tactical Boots. I own this boot collection because I've yet to find a boot that I find comfortable enough to eliminate the others….
…until now.
I was contacted by a marketing rep from Altai to see if I was interested in reviewing a pair of their newest entry into the tactical footwear world, the Altai MF Tactical Boot. *(See note at bottom)
Here is how the exchange went (edited for privacy) between myself and the Altai contact, Blakely:
=====================================

Dear Florida Hillbilly Editor,
My name is Blakely and I work with a new tactical gear company called ALTAI™ Gear. I happened to find your website and was wondering if you would be interested in reviewing our ALTAI™ MF Tactical Boot? All we ask is for you to test and evaluate our boots and then give them an honest write up on  your blog.

Here is our website if you are willing to check us out: http://www.altaigear.com/
Some quick facts about our boots:
• Altai® is light at 650 grams – 23 ounces (size 9)
• Waterproof / breathable bootie
• NO break-in period.
• Highly functional upper with SuperFabric® material
• Abrasion Resistant
• Quick drying
• Stain Resistant
• Air Permeable
• Vibram® outsole – hiking tread
• Slip Resistant
• crimped laces
• Speed lacing – metal eyelets
• Padded nylon tongue
• Waterproof leather toe

Please let me know if you are interested, we would love to send you a pair. Have a nice day-
Thank you for  your time,

Blakely

=====================================

to Blakely
Blakely,
I'm intrigued by your product. I"m wondering how well it would stand up the the harsh, jungle-like saltwater environment I have here, living on the coast of southern Florida.

I'd be more than happy to put a pair through its paces, and rough them up a bit to see how they handle our crazy conditions.

Do they run small or large? Proper fit can be tricky when done online, and can kill an otherwise great field test. I typically wear a 10.5 or 11. I see the Altai tend to run a little large, What do you think? I'm thinking 10.5…

And I appreciate the opportunity to work with you, as much of a backwoods hillbilly as I am, I DO love my tech.

Peace,
db
FloridaHillbilly.com
=====================================

to me
Hello Darrell,
Great news! We are very excited about the opportunity to be on your blog. Currently I am jealous of your warm harsh terrain Minnesota is just still a little too chilly for my liking; however, I am confident that our boots can stand up to your testing!

I think we should try the 10.5.. if it doesn't fit properly we can always send them back for a different size free shipping (but I think that will work perfectly) I will try to send out a pair for you today. I've attached a promotional Altai boot summary pdf for your viewing. I am looking forward to working with you as well!
Could I get your phone number just for contact references? That would be great!

Will keep in touch!
Have a great rest of your day,

Blakely
=====================================

to Blakely
I miss snow…and the benefits of frost! It kills bugs, so you don't end up with cockroaches big enough to ride. Tell me how jealous you are when its 90 degrees, with 85% humidity, and ANOTHER hurricane heading our way. Every spot has its pros and cons…the trick is to learn to love the good, and ignore the bad…(easier said than done!)

My cell is (***) ***-****. I work during the day as a diver (again, not as glamorous as it sounds), so if you get voicemail, I'm probably underwater.

And on that note, its time go get wet.

Have a great day, and thanks again!
=====================================
to Blakely
They arrived yesterday….I have a small problem.

I'm a diver during the day, and these just won't do…I WANT to wear them all the time already….

It is going to be a nice reviewing session

I'm looking forward to the weekend, I'll be above water, trying out these new boots!

Initial response is "wow.". Biggest issue I've had so far is place of origin. While they aren't made in China (YAY!!!!), they aren't made in the U.S. either…

Other than that…mighty fine….looking forward to this. Thank you for the opportunity.

db
FloridaHillbilly.com
=====================================

to me
Haha you had me so worried there for a second! I'm glad you have good first impressions, I can't wait to see how they stand up to your testing.
Although they aren't fully made in the US, the SuperFabric® material on the sides and upper of the boot is made right here in our building in Minnesota. AND currently we are working with US manufacturing companies about making the boots here in the US so hopefully that will be in our near future!
Have a great weekend!
Blakely

to Blakely
All good news on the manufacturing….

I'll be in touch…

=====================================
A straightforward, down-to-earth promoter that wasn't trying to push anything that was over the top – a very good start from my standpoint. The people in a company are as important as the products they sell. With our exchange, I really was looking forward to testing out the Altai MF Tactical Boots.
That is the good part of this. I get to test out another product.
The bad part is that I don't get to test it the way I prefer until November, the month of what I call "West Virginia's State Holiday" – Deer Season. (I do intend to wear the Altai MF Tactical Boots hunting this fall and re-review them after trying them out in cold weather and the West Virginia hills.)
My life doesn't include storming rooms, breaking down doors, or long forced marches. My hunting is limited, and usually occurs in the fall of the year. I've had the boots since March, and have worn them off and on for only about four months. This has limited the testing I've been able to do, at least as far as a Tactical Boot goes. So far.
But I have worn them. Often. I've stomped around in them trying to break, brush, scuff, or damage them in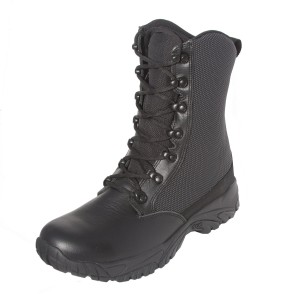 any way. I've stomped on cactus, climber trees (ok, not much – I'm not as spry as I used to be.), and waded into swamps and brackish waters. They've simply laughed at anything I've thrown at them, including wearing them without socks. (Don't try this at home, I"m a professional.)
They've kept my feet thornless, my ankles unbroken, and overall dry, no matter if the moisture is inside or out. I've NOT tried wading in them, or trying to crawl around on barnacle-encrusted rocks – those things are like walking on razors.
I've not had any problems with the durability. And the weight makes wearing them a pleasure.
===============
As to day to day wear? I'd wear these over any other shoe I have, assuming I'll be in less than 8 inches of water.  These are absolutely my go-to shoe of choice now.
Pros:
They do not heat up my feet on 90+ degree days spent standing on blacktop.
They do not make my legs tired or make my feet hurt, a problem I normally have with most boots.
The weigh less than any other boot I currently own, yet provide great ankle support.
Good traction.
They've taken what little abuse I've been able to dish out to them with no adverse affects.
The laces. Oh, the laces! (More on this below.)
While speaking of laces, the speed lacing is fantastic, and something every boot should have, IMHO.
Cons:
You'll never sneak up on someone if the soles are wet and you are walking on tile. They squeak. (Mall Ninjas be warned!)
I can't wear them diving (my day job) without water retention issues.
Where were these when I was in the US Air Force??
Yeah…that's about it….
These really are top of the line boots in every way I can see. And in the case of the laces, leaders in the field.
I have to mentioned the laces. The laces included on the Altai MF Tactical Boot are new to me. Referred to as "Figure 8 Crimped", the lock in place and do NOT slip loose. Awesome. I normally swap out the laces for paracord, but I'm more than satisfied with the performance of the included laces. Paracord tends to slip. Not the Figure 8 Crimped ones! I want more of these laces for the rest of my shoes…
Truly, at this point, I cannot say much more about these boots that I haven't already covered. First impression was that they were light and had a lot of potential.
My first impression was a serious underestimation.
=====================================================
Last weekend, I had the opportunity to let one of my closest friends look them over and give his opinion. He had some interesting insight on the boots. I only include this as part of the the review because he's my friend. Oh, and he has 23 years in the US Air Force working the flight line on C5 cargo planes, flying all over the world, and spent time in the sandbox we call Iraq. I'd say his opinion should count.
Having spent 23 years field testing every possible boot he could find, he was impressed with the lightweight boots. The other thing that impressed him was the construction where the welt meets the upper. He appreciated the low welt that still came up over the toe, providing extra protection without looking like a "moon boot".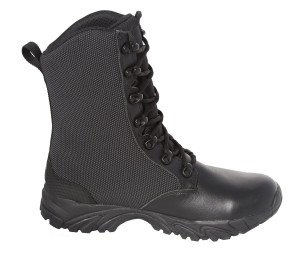 He had two things to say against the Altai MF Tactical Boots. The first is that the boot looks generic. The sides have no markings, only a large portion of the black material covering the ankle. He would have liked to have some sort of marking along the side, if only a reinforcing strap just to break it up. Not a deal-breaker, more of a personal preference. The second issue is that Altai is an unknown boot brand. Having lived the life that involves hard boot use, his boot purchases always started with a known company. For now, Altai MF Tactical Boots are little known..
The first issue is not a functionality issue….he always was a sucker for sparkle and pinstripes (he had a pair of $400 Tony Lama's snakeskin cowboy boots for line dancing…nice…but seriously??)…I'm more of a functionality guy. I LIKE the simple look, and frankly, I believe that the textured finish does offer a visual appeal…without looking like a one of today's fancy shoes with tinsel and rhinestones.
The second issue will be resolved rather quickly, I believe. Word will get around. These are VERY nice boots.
If you re looking for a tactical boot for ANY reason, seriously consider these. If you need a pair of comfortable, light, durable, and even stylish, get the Altai MF Tactical Boots. If you are in south Florida, give me a shout, I'd be more than happy to show them off for you.
I plan on re-reviewing these after using them in West Virginia this fall. But don't bother waiting for the article, go get a pair of these, they are awesome.
`Nuff said.
As Always,
Peace,
db
As always, please "like" FloridaHillbilly on Facebook, subscribe to my feed,  follow me on Twitter, add it to Google+, Pinterest, Linkdn, Digg, and/or tell your friends! The more folks that start behaving like ants, the fewer grasshoppers there will be left needing help.
Need something from Amazon (and who doesn't)? I earn a small commission from purchases made when you begin your Amazon shopping experience here. You still get great Amazon service and your price is the same, no matter what. And for the record, all of my Amazon links provide me with this referral fee.
*Product Reviews/Disclaimer
This product was provided at no cost to myself in order to provide a review. No monetary compensation was provided to do so. Please note that if you any of my Amazon links above to make a purchase, I will be getting a few cents off the sale at no extra cost to you. This goes for every post I make referencing Amazon.com.