Share the post "Product Review: hides® Classic"
First, let me state, the lower case "h" in "hides® Classic " is not a typo, I don't want my senior English teacher hunting me down….And I'll follow up with, "anyone that is so laid back as to NOT capitalize the name of their product is pretty awesome in my book".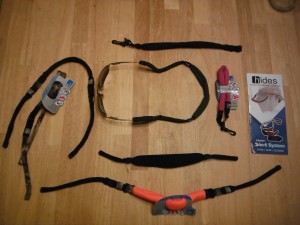 A local company,
hides.com
  gave me a cross section of their products about a month ago to test out. I prefer to start at the very beginning (A very good place to start…) of their product line, so opted to test out the
Classic
first.
I never actually got past the Classic. I intended to try out the others, but fell in love with the original. I've used other eyeglass retainer systems before, but that's all they were- retaining systems. The hides® Classic, is also a cleaning cloth, and the part I use the most, a soft case to protect my glasses. Eventually, I may move on, but for now, it does everything I want, and then some.
I wear prescription sunglasses, so I try to take good care of them. When I wear contact lenses, I opt for $10 polarized fishing glasses, since I tend to rough them up quite a bit. With the hides® Classic system, I'm far more likely to spring for a better pair of sunglasses, as I'll have a built-in protection system as part of my every day wear.
The material that the Classic is made of seems to be a microfiber weave that, due to its nature, rolls into a soft comfortable band for the back of your head and/or neck. When unrolled, it converts into a microfiber case to allow you to protect your eyewear from scratches and abrasions. It won't protect from crushing and such, but for what it offers, I'm very happy with the protection it gives.
I've worn them fishing, kayaking, swimming, and driving. The ability to retain my glasses along with having something to clean off the salt spray has made the hides® Classic  a must-have for my kayak and fishing trips. I should be using their hides® H2O, I simply haven't switched over yet. Being that the Classic retains already, only if my wife makes me capsize the kayak would I be worried…
If I had any reservations, it would be that my glasses are wire frame, and the Classic I currently have is set up for thicker ear pieces. I was told they have the smaller sized connectors for wire frames, just ask.That being said, they still work fine, and I've NOT lost them once due to the size issue. Again, this is my fault, I was offered the proper ones, I just never followed through.
(What to bet on how long I have to wait before I'm contacted (AGAIN!) about getting the proper ones? Since the folks over at hides.com read this blog, my money is on "before you have read this". That's the kind of service they ALWAYS provide…To them, you don't stop being a customer once the money changes hands, you are ALWAYS a customer.)
=============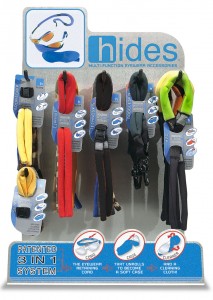 Options are eight models, about a dozen colors, camo among them (based on models), and at least two fabric types, one for floating units (no more "GLASSES OVERBOARD!" worries). Prices from their website range from $5.95 to $11.95, with the hides® Classic running $7.95. They also offer free shipping on orders over $20. Customized prints are also available.
If you are a eyeglass wearing individual in the outdoors, I'd suggest checking these out.I'd bet that they have a model to suit your needs.
You can find and purchase them at hides.com and Amazon.com or go here to locate a retailer near you.
And here's the bonus ("But wait! There's more!")…I have TWO of the hides® TechnoSkin (a Classic with buckles to adjust sizes), one in black, and one in camo. Today is my oldest daughter's birthday, so in honor of her, I'll be giving away ONE of these (the other I'm keeping, thank you very much!) to a random person, pulling the name form those that commented to this post. So post a comment today with your pick for color, black or camo. Please limit to a single post, that makes it easier for me to sort. The winning person will get the color they chose, and I'll keep the other. Contest closes at 23:59 Sunday, October 14, 2012 (That's 11:59 for you civilians.) I'll post the winner Monday morning.
Peace,
db
Product Reviews/Disclaimer
This product was provided at no cost to myself in order to provide a review. No monetary compensation was provided to do so. Please note that if you use my Amazon link above to make a purchase, I will be getting a few cents off the sale. This goes for every post I make referencing Amazon.com.

The FloridaHillbilly.com is a lifestyle website written independently of any product or service. This is not a sponsored blog. From time-to-time, we will review a product or conduct a giveaway. The product review is our opinion and has been tested by us. Giveaways are open to those living in the continental U.S. If you would like us to review your product or conduct a giveaway with us, please e-mail db (at) floridahillbilly (dot) com. Many times we also share products we love with our readers. They are truly items we come across that we like, and want others to know about. We will make the distinction between items we purchase ourselves and provided product reviews.