Share the post "The Vinegar Experiment"
I had a batch of wine that the wife just didn't like. She'll pull punches on me and go ahead and drink some of what I make, even though its not a big hit with her, either out of kindness or pity, I'm still not sure. But this batch was just plain old BAD.
If you know me at all, you know how much I hate waste, particularly food. I'm counting wine as food, since it started as fruit juice, and there is some nutritional value to homemade wine. I didn't want to throw this out. Hmmm…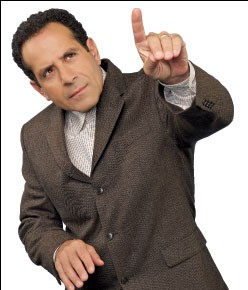 When the wife passed judgement, I immediately starting thinking "vinegar", since vinegar used to be made from wine, back when monks weren't compulsive crime solvers and people didn't waste food.
I read somewhere its simply a matter of introducing acetic bacteria to a solution containing alcohol. The rest is simply time. Mother Nature kicks things into gear converting the alcohol into acetic acid, the stuff vinegar is made of. I'll leave the science to others to explain, and I'll go with "just do it". The end result, like all things done in small batches at home, tends to provide a superior product than what you can buy in the store.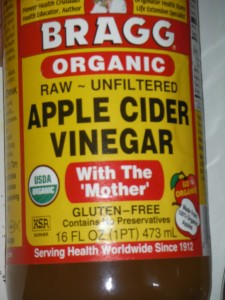 The hardware:
A gallon jug of crappy wine. Good wine also works, by why use the good stuff on an experiment?
Another gallon jug for the process, or something to our the crappy wine into for a short time.
a bottle of Braggs Organic Apple Cider Vinegar with the 'Mother' (found at a health food store)
a rubber band
a paper towel
The process I followed: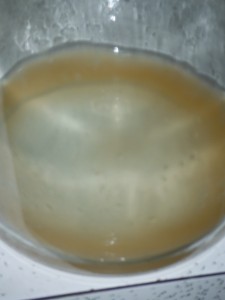 Take the final jug, pour in a little of the apple cider vinegar, trying to get a bit of "the Mother" in as well. Add the wine until you get to the neck area, adding a little less than a full gallon of wine. Cover the top with a paper towel, securing it with a rubber band. Set it in a dark place that stay between 70 and 80 degrees fahrenheit. Then wait. Thats it.
Start tasting it around a month, or wait for a large, alien blob  to form on the top, and eventually sink to the bottom as it dies back. That alien blob is the mother growing, converting the sugars in the alcohol into acetic acid. Once it runs out of food, it sinks to the bottom in a death-like coma. Some folks throw it away, some feed it to their dogs or chickens. Some name it, put it into their swimming pools, and watch it grow into something too large to be contained and it runs all over the county eating people as it moves around.
Wait, I'm not sure about the last one….that may have been a movie I saw. Hard to tell, its 4:52am as I write this, sorry. But you CAN feed it to your animals, or instead of discarding it, keep topping off the liquid as you remove some and the Mother will live indefinitely, just as long as you keep "feeding" it.
Incidentally, this is also the same basic process used to grow and maintain Kombucha, only the food source for kombucha is sweet tea. I've also allowed kombucha to ferment beyond the drinkable stage and allowed it to turn into "Sweet tea vinegar" and used it just like vinegar. Makes a nice vinegar and oil salad dressing when combined with coconut oil. (I can send you some kombucha mother if you'd like, I've got a little bit I maintain to always have a source of vinegar…just in case. It would take me about a week to get it up and running again, so there would be about a two week turnaround on any orders. Contact me if interested. (Sorry, offer is closed)) Back to the vinegar.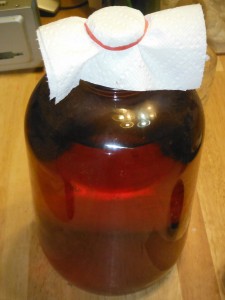 I like projects that thrive on neglect. I tend to forget about them for months at a time, a good thing when you are supposed to wait…this is one of those things. If when I remember, I'll tell you how it went.