Share the post "Thinking about Raising Coturnix or Pharoah Quail?"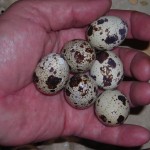 Here is one reason why – eggs!
Yes, they are smaller. Yes the shell is thick when compared to the egg size. Yes they are difficult to open without busting up the shell and getting pieces of the shell into the egg.
However, they are tasty, make the perfect pickled eggs, and have a higher percentage of nutrition when compared to chicken eggs.
For instance, quail eggs:
contain 13 percent protein, versus 11 percent in chicken eggs,
almost three times of the vitamin B1 found in chicken eggs,
twice as much vitamin A and B2,
provide five times as much iron and potassium,
have not been shown to cause allergies, and can actually help to fight allergy symptoms due to the type protein they contain.
twice as much vitamin A and B2.
and richer in phosphorus and calcium than a chicken egg.
A coturnix quail (also called pharaoh quail, Japanese quail, and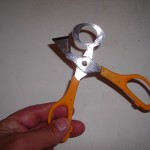 Jumbo brown quail) egg is about 1/3 to 1/5 the size of a chicken egg, so it takes 3-5 quail eggs to equate to a chicken egg. I once sat down to a breakfast of 19 fried jumbo brown eggs. Sounds impressive, doesn't it? The reason I ate 21? I got tired of opening the eggs. One thing I highly recommend if you decide to raise these quail for food is a "Quail Egg Shell Cutter".
Here is Liz showing it in use: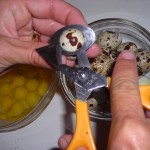 Quail space requirements are considerably less than chickens, with quail needing one half to one square foot of floor space per bird,  4-10 square feet for chickens. When you factor in the fact that each Coturnix quail hen can lay up to 300 eggs per year, this means that in a 2×3 foot cage you can house 12+ birds, yielding almost one egg per day per hen. Plenty to provide for the average family of four. If you are a heavy egg consumer, like me (eggs are Paleo approved!), you'll require more of course.
Coturnix will rarely hatch their own eggs, so you will require either a supply of new chicks, or take matters into your own hands and hatch them yourself. Its actually very simple to do, taking only 17 days from the time the fertile eggs enter the incubator until they hatch. After hatching, a brooder, or temporary home that allows you to maintain an environment at 95 degrees for a couple weeks. A simple solution is just a cardboard box lined with newspaper and a suspended lightbulb for heat. Options scale up from there, and I suggest you start simple and move into better options if you decide to continue production.

From hatching, they reach egg bearing age in around 5 or 6 weeks, and full growth in about 8 or 9 weeks. So doing the math, starting from eggs, you have 17 days to hatch, plus 6 weeks to the first egg and another two weeks til fully grown – less than 11 weeks from start to harvest of meat, a little over two months to your first eggs. Add in the ability to start hatching your own eggs at 9 weeks (6 weeks to egg producing age + 17 days of incubation), and you will have replacement chicks about the same time that you start to harvest – a perpetual production system! And quickly scalable to increase or decrease production.
Quail really are a great option for those that don't have the room (or proper zoning!) to raise chickens. They mature faster, produce more eggs, need less food and space, and have more uses than virtually any other kind of domestic poultry. Add in the fact that they are very close to silent, and what noise they make is unrecognizable by most folks, and you have a stealth option for backyard egg production.
db