Share the post "Canning Corned Beef (Plus, a Corned Beef Hash Recipe)"
(This is slightly modified from a post I made last week at InTheRabbitHole.com' s forums. While I do post on lots of other forums, I call their forum "Home", and end up posting a lot there. They have a tight-knit community established, and while they don't have a massive number of registered users like some of the giant forums, they are all interested in some aspect of Urban Survival, so I feel you get quality over quantity.)
No work today, so I thought I'd do SOMETHING to improve the household standings, so I decided to can some corned beef brisket that I had found on sale.
On a side note, I have been canning for many years. Mostly low-acid, water bath canning of things like jams jellies, and fruit preserves. It is actually ridiculously simple, no more difficult than backing a cake from a box. And the end result is a product so good that you will call people to brag about it.
If you already have a working kitchen in your house, you should be able to start canning your own jams and jellies with less than $20 invested. Half of that would be a dozen jars, the rest being a funnel, jar lifter, and magnetic lid lifter. Add in a stock pot deep enough to submerge your jars and you are set. At least for high acid foods requiring water bath canning. Low acid foods like vegetables and meats require pressure canning, like what I've done here with the corned beef.

I feel a canning series coming up…. Back to the main topic…
I just opened a jar, and my gosh this stuff is GOOD. I would rank this right up there neck and neck with Yoders Bacon as my favorite long term storage item now.
The process is simple enough, following BBB (Ball Blue Book of Canning and Preserving), paraphrased:
Cut into 1 inch chunks,
raw pack, 
add in spices
top off with water (optional)
Process at 10 pounds (based on my altitude) for 90 minutes in a pressure canner. (I LOVE my All American 921!)
Cool, sample, and then hide the results from the family.
Cubed brisket. YES, keep the fat!: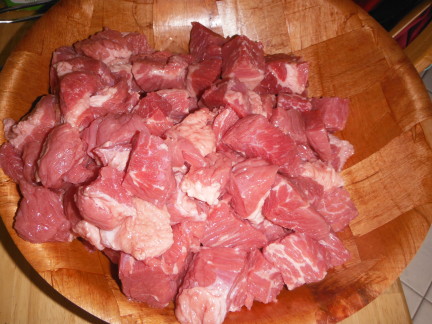 Jarred up, ready to process: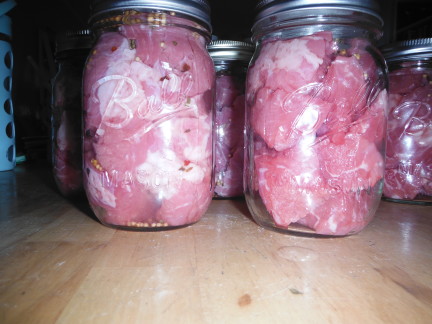 Processed, but it looks like dog food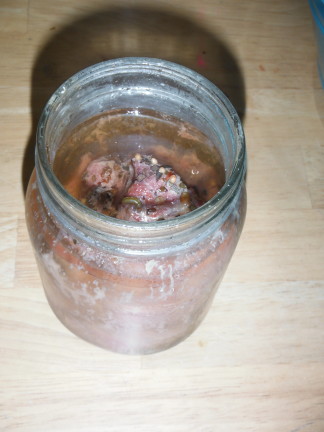 Sure didn't taste like dog food…or my dog is eating a LOT better than I thought!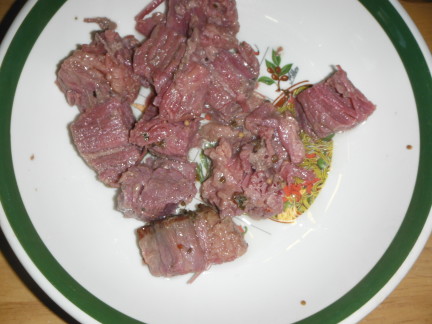 Eat it at night in the back of a locked closet so that you don't have to share.
It tastes just like it was slow cooked in a crockpot, only missing a side of cabbage. I even ended up drinking the juice out of the jar!
YUM!
Yield was 4 pints per brisket "point" (vs "flat"). Bad news is now I only have 7 pints left…and one is promised to a buddy.
This is some SERIOUS good eats, I'll definitely be doing this again!
==============================================
Fast Forward a week….
This morning, as I was writing this, I decided I should taste test another jar…MAN this stuff is GOOD! I decided to make a hash, one of my favorite breakfasts.
Prepper Hash
Ingredients: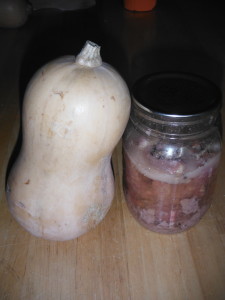 a pint jar of canned corned beef
1 medium sized butternut squash or equivalent sweet potato, parsnip, or other starchy root vegetable (home grown is best, of course)
Onion. I used dehydrated onion flakes
The Process:
Peel your squash and cut it into 1/2 inch cubes. This makes cooking faster. Put it into a pot of water on high. Boil for 3-4 minutes to soften. Drain.
In a cast iron skillet, heat some oil. I used coconut oil.
Dump in the drained squash
Dump in the jar of home canned corned beef, including all spices and liquid.
Turn heat to medium to reduce the liquid, stirring occasionally.
When most of the liquid is gone, add in the onion. I used about a tablespoon, roughly half a fresh onion. If using fresh, put it in the skillet for a minute r so before before adding the squash and corned beef.
Continue to reduce the liquid, stirring often. This breaks up the meat and squash, giving it the "hash" consistency.
When it is all cooked well, broken down and looks ready, let it sit for another minute or so to crust up on the bottom. Hash should have a nice crust to it. Everybody loves "crunchies".
Serve with eggs. I used quail eggs
Burp loudly and let the cook know how much you appreciated all their efforts.
Peace,
db
As always, please "like" FloridaHillbilly on Facebook, subscribe to my feed,  follow me on Twitter, add it to Google+, Pinterest, Linkdn, Digg, and/or tell your friends! The more folks that read this and learn how to can their own corned beef, the more corned beef hash in the world. Tell me that won't make it a better place!
Need something from Amazon (and who doesn't)? I earn a small commission from purchases made when you begin your Amazon shopping experience here. You still get great Amazon service and your price is the same, no matter what.