Share the post "Spearfishing the Treasure Coast"
(Please keep in my this is my take on the sport, and I've only done it twice. This is not a how-to on spearfishing, as I'm a novice. This is an alternative method of procuring food, one of the reasons I do this blog.)
Fishing and hunting have been passions of mine for over three decades. I recently was exposed to a combination of the two that also incorporates swimming, something I love to do to relax.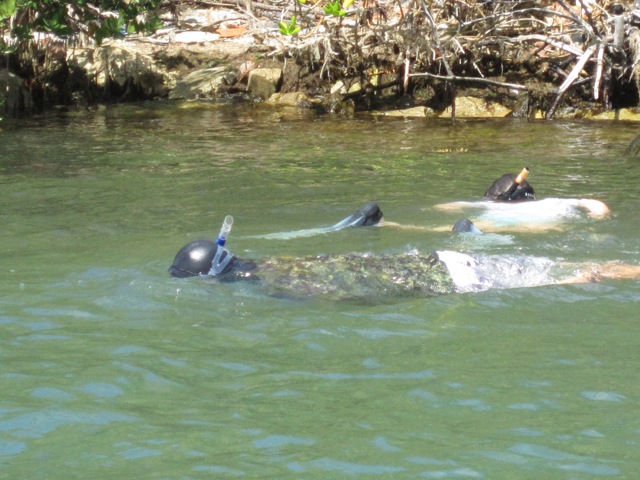 Twice in the last week, I've been fortunate enough to have tagged along to go spearfishing with friends that have been doing this long enough to make it look easy. SB and his 12 year old daughter, "Bubbles" offered to show me the ropes, and hopefully how to put some food on the table.
Equipped with a mask, snorkel, fins and a pole spear, we would drop into semi-clear water during high tide to see about bringing home something tasty to eat. ("Tasty", I have found, is a personal thing, and what some folks will turn their nose up to, others actively pursue.) Options we saw that were legal to harvest include snappers, grouper, sheepshead, mullet, and lionfish. Other fish seen, but illegal to harvest via spearfishing include, but not limited to: sea trout, pompano, and my all-time favorite sport fish, snook.
Being that we were "inshore", or in a tidal salt water estuary, we did not get to see many other options that are legal spearfishing targets, such as cobia, dolphin, tuna, or amberjack. (Please also keep in mind spearfishing regulations can and probably will change, so always check the regulations before going)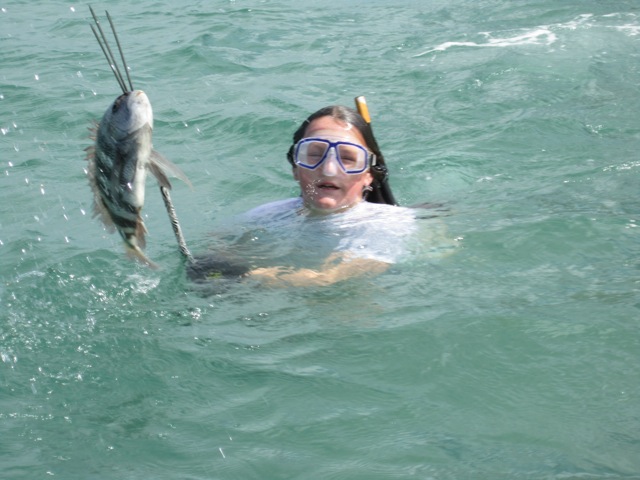 Having said all that, our main targets, and the most likely to see, were sheepshead, snapper, and lionfish. We saw plenty of each, with snapper being the most common, however, also the smallest. I quickly realized that the vertical convict bars of the  sheepshead were what to be looking for, as they tended to be the most likely targets to be of an acceptable size.
The tactics were simple – drop in up-current of a target area, drift quietly into the area, looking in, on, under, and around any structure for an acceptable target. Once a target is spotted, using the stretched surgical rubber band attached to a 6 foot fiberglass pole as the propulsion to drive the sharp, barbed point through the fish.
Simple. In theory. In execution, not so simple.
Eventually, with Bubbles, the "old Pro", showing me just how easy it was (for her), I was able to put all the motions together and stick something, in my case a large mullet.  I was ecstatic! When I brought it to the boat, I was met with less than enthusiasm. I was OK with it, though, as I simply wanted to break the ice on the new skill. I've also heard, from some folks, that mullet can be pretty tasty, so I wanted to eat it no matter what anyone else said. On the first day, I was eventually able to add several sheepshead to the list, thankfully.
The rest is mostly details lost to the moment. I'll leave it at this, spearfishing is a great way to hunt, fish, swim, sight see, interact with nature, and procure food for the table – all at the same time. I'm a huge fan, and hope to do it often.
Pics from my second trip: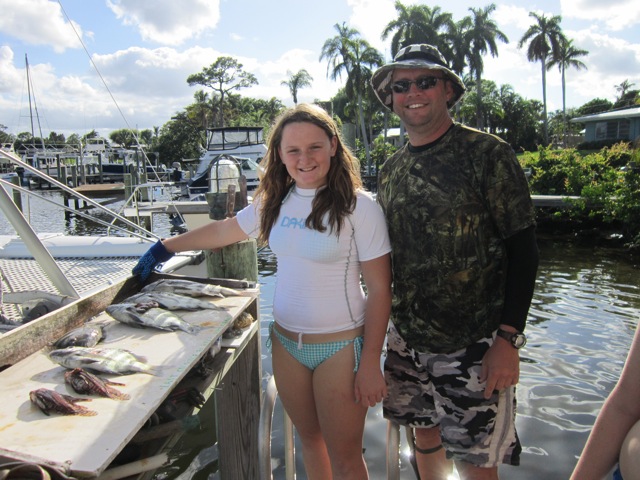 Here we are with our catch from my second try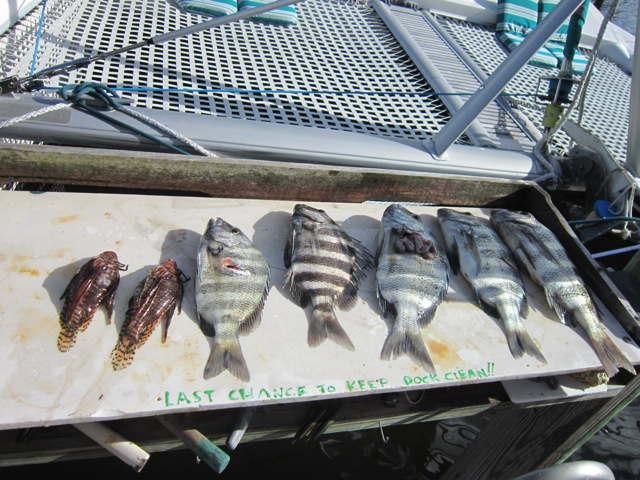 Two lion fish, five sheepshead – not a bad haul for a Tuesday afternoon!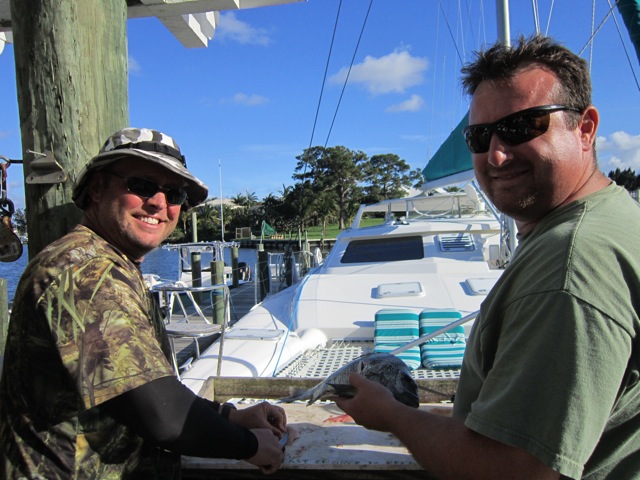 SB showing me how to clean a lionfish and helping with the rest.
Many thanks go out to him, his VERY understanding wife, and his children for extending their hospitality to a "hillbilly without a clue". I've learned yet another way to procure food to provide for my family.Thanks friends! I hope to repay the favor some day.
I understand they may like rabbit….
A bonus! Here is a video of "How to clean a lionfish"